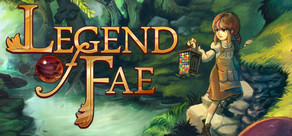 Four elementals are drawn to Claudia as she searches for her missing uncle! Embark on a journey to discover the secret behind the mysterious Faery Gates.
Çıkış Tarihi: 26 Temmuz 2011
HD Videoyu İzle
12 Ocak 2014
Update v1.5.0 is an engine update that fixes a number of start up issues and in-game crashes on many machines.

Old save files will not be compatible with this update. For users who did not have any issues with the original version and wish to continue playing with their old saves, you can access the old version by doing the following...

-Right click "Legend of Fae" in your Steam library
-Click Properties
-Click the BETAS tab
-Select old_version from the drop down list

That should set your version of the game to the original build.
2 yorum
Daha fazlasını oku
Oyun Açıklaması
Deniz Haçı Adası ana kara dışındaki sakin bir limandı, fakat son zamanlarda garip şeyler oluyor! Fae olarak bilinen gizemli yaratıklar belirmeye ve etrafa zarar vermeye başladılar. Claudia adlı genç bir kız, karmaşanın içinde kayıp amcasını ararken maceranın içine itilir. Bu tehlikeli bir yolculuktur fakat arkadaşsız değildir. Claudia aslında bir büyücünü olduğunu öğrenirken 4 elemental de yardımlarını ona sunarlar. Gizemli Faery Kapıları ardındaki sırrı keşfetmek için bir maceraya girişirler.
Anahtar özellikler:
50'den fazla seviye

Geliştirme kustomizasyonu

Şirin yaratıklar!

Aktif zamanlı puzzle savaşı

Boss savaşları!
Sistem Gereksinimleri
İşletim Sistemi: Windows XP, Vista, 7

İşlemci: Pentium veya dengi

Bellek: 270 MB

Sabit Disk Alanı: 76 MB

Ekran Kartı: Direct X 8 veya daha yükseği

DirectX®: Direct X 8 veya daha yükseği
Helpful customer reviews
Başlık:
Legend of Fae
Tür:
Basit Eğlence
,
Bağımsız Yapımcı
Geliştirici:
Endlessfluff Games
Yayımcı:
Endlessfluff Games
Çıkış Tarihi:
26 Temmuz 2011
Diller:
| | Interface | Full audio | Alt yazılar |
| --- | --- | --- | --- |
| İngilizce | | | |