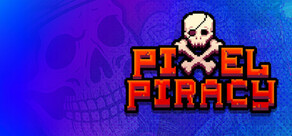 Pixel Piracy is a side-scrolling 2d, real time strategy/sandbox/simulation game created by indie developer Vitali Kirpu and produced by Alexander Poysky. In the game, the player leads the life of a pirate captain. Recruit a crew, outfit and customize your ship and set sail on the open seas.
Release Date: Jul 5, 2014
Watch HD video
Early Access Game
Get instant access and start playing; get involved with this game as it develops.
Note: This Early Access game may or may not change significantly over the course of development. If you are not excited to play this game in its current state, then you may want to wait until the game progresses further in development. Learn more
What the developers have to say:
"Hello and thank you so much for deciding to check our game out!

While we initially had no intention of releasing the title on early access we have decided to due to the absolutely overwhelming amount of petitions to do so both in our e-mails and on Reddit.

It is thanks to you that we made it this far, thanks to you that we were voted into Green-light in under 13 days, and thanks to you we will finally realize our dream of producing a game that appeals to almost everyone who plays!

We are VERY hard at work on the game, with constant content patches and updates on a weekly basis, and feel that Early Access will only help speed things up. With the possibility of receiving your feedback in real-time , releasing to a broad spectrum of players from all over the world, and the prospect of having you enjoy it, we will be working our fingers to the bone!

As with every alpha project available, one doesn't want know what to expect. To make sure you actually enjoy the game before buying it feel free to use the available version of the game we have on our website www.piracysim.com for free! We aren't trying to cash in a quick buck here, so please, by all means play the game and make sure it's enjoyable to you prior to putting your hard earned money down!

The game is coming along in leaps and bounds, and we have a tentative final launch date of March or April, but that doesn't mean we will stop work on it. Once the game is at 1.0 we will spend two years updating it consistently, with new content being added every patch! Expect a VERY broad scope, an incredible amount of objects and loot, and a game life-span of around 40 hours by the time we are done.

We will be adding a factional warfare system, end-game systems and sub-systems that will let you run a pirate cove, trading, MANY quests, MANY unique abilities, traits, captains, and crew members, and fleshing out current systems so that they provide the best user experience possible.

During Early Access we will be launching with a 15 % discount as thanks for your continued support, and afterwards will always try to maintain a good pricing relationship. We feel around 15 $ is a sweet spot we would like to work with as a final price.

The steam community will be absolutely critical to the project's completion. We will rely on you to give feedback, support, advice, and even ideas to us. Remember, we have gotten this far with four hands, imagine how far thousands upon thousands more will do!

Once again we want to thank you from the bottom of our hearts. When we began we had no idea how much our choices would sway people, or how a single decision would deem us worthy of such overwhelming support. You are the heart of this project, and ultimately, whom we want to present it to.

Vitali Kirpu and Alexander Poysky" Read more
July 29th, 2014
Hello everyone, Alexander Poysky here one last time before launch with the FINAL Early Access community update.

The game is done, that's it, we have added literally thousands of changes since Early Access began, and I can't even pretend to know the amount of bugs we have squashed in that time.

Two Hundred THOUSAND people play Pixel Piracy in it's Early Access state, that's simply astounding to know, and humbling.

We started this game EXACTLY 1 year ago. Without a budget, without high expectations, without the secure knowledge that the game would be such an amazing success. We took our little project from start to finish in UNDER a year, that is something we are extremely proud of.

We have been informed just now by our Valve representative that we are also one of the first titles to leave Early Access, as well as one of the quickest to do so (having only spent a little over half a year on it.).

It's so rewarding to see that our little motto of "do things in a correct fashion without ever abusing or taking advantage of anyone." has worked so well, and we hope to prove that the Early Access system works.

Vitali and I both do this for a living now. We were able to leave our respective jobs, to help our families, to do what we love most in life, all thanks to you.

You are the ones who support our endeavours, you are the ones who help us march along and get the job done. You put your money where your faith in us was, and we are making due on that faith by finishing the game.

I want to take this opportunity to explain that launch and 1.0 DOES NOT mean we will stop updating the title! Mikko will come to work the day directly after, just as any other day, and keep on plugging away. I will continue to think up new things to add to the game and business will go on as usual. Expect to see many new and exciting things soon in the world of Pixel Piracy!

It's been an amazing, thrilling, fun, insane, and spectacularly rewarding ride, and I want to let you all know that the Pixel universe isn't just going to stop at Pixel Piracy... what the future brings... only we know ;).

Expect something big soon!


THANK YOU FROM THE BOTTOM OF OUR HEARTS!!

Quadro Delta
35 comments
Read more
July 22nd, 2014
Hello there everyone!

We are now testing our SECOND release candidate version, and intial tests look awesome.

There's still some tweaking to be done, but we are more than comfortable with the first build that we went ahead and got our closed testers group the second this afternoon, which contains loads of new tweaks and final bug stomps.

Everything on mantis has been adressed to my knowledge, and the tutorial overlay is complete. Tweaks have been done to prioritzation, pooping, all the way to skill optimization and descriptions.

There's literally no stone we haven't unturned in order to tweak it a bit.

See, here's the thing. While BUILDING the game, tweaking is kind of sort of pointless in the sense that maybe next week we'll add a new system that will render the previous one useless or obsolete (as was the case with the COMBAT system causing the old saves to become completely useless).

The good thing is, that with all of that out of the way, it's simply a matter of looking at the game not as a set of ikea wood panels all lined up and the instruction manual lost, as was the case of tweaking BEFORE (you don't know if screwing in a screw will cause the part to be out of place in a few steps or not!).

Now, we have an ikea cabinet that has all the screws in place, that are a little loose. What we are doing is screwing them all in nice and tight, which is what this final week is for.

We WON'T release a public version because we want you guts to try the product as a finished one, something that is SOLID and POLISHED. Right now, there are still a few screws loose, and we want to knock your socks off with the transition from Early Access to Final Build.

I hope this clears up any misgivings you might have.

OH YEAH, release. There are two dates that come into mind, both on thursday, and it all comes down to how quickly we finish screwing the final screws in.

I want the final build to be tested for at least 5 days solid by our large group of testers prior to launch, so it'll either be Thursday 31st, or the 7th.

ALSO, remember to never forget the following (lol) : WE WILL CONTINUE UPDATING THE GAME FOR A LOOOOOOOOOOOONG TIME ON A VERY REGULAR BASIS. EXPECT LOADS AND LOADS OF NEW CONTENT.

1.0 means Public-Ready, not "we'll leave it at 1.0 to collect dust."

Not as far off as you expected is it?
21 comments
Read more
Reviews
"Wow, a 10/10, but why?! Why? because this game managed to captured my heart immediately, with its excellent sound effects, cute, even if unpolished, pixel art and the ability to not only lead a pirate life, but do it with your own customized ship and crew. the promised features will make it from a 8/10 right now to the 10/10 it could be. should be. will be. this one is bound to be a classic, and not reviewing it as such would only make me look fool in hindsight."
10 – Indiedb

"Pixel Piracy is a loveable game with its own barrel of charm the mood seems perfect and I can just forget all my other needs. I can't help but hear the sounds the pirates make every now and again even when I'm not playing. Very interested to see where this games goes down the line. The loss of my pirates may seem a bit unforgiving at the moment but I'l only try harder next time ! If you like a bit of randomness and the ability to design your own ship, assemble your crew whilst managing their needs then you might as well try this out."
9.5 – Indiedb

"I don't give games a 10/10 that often, if not ever. But this game has so much going on for it, and it is under the radar right now. So, do yourself a favor, download the demo, have an awesome time, and then buy this game, cause it really is a gem. If you like pirates, and high sea adventure in highly randomized generated worlds, this is the game for you! It is very unforgiving, so you have to be very sure about your intentions when you play. One false planning and you have to start over from scratch (although there outside methods to save your game if you want to "cheat" save so do not worry). But the gameplay is fun, the art style, and sound effects are smarmy and swaggy. If you don't like this game, just walk the plank, because you don't enjoy fun things evidently :)"
9.7 – Indiedb

About the Game
Pixel Piracy is a side-scrolling 2d, real time strategy/sandbox/simulation game created by indie developer Vitali Kirpu and produced by Alexander Poysky.
In the game, the player leads the life of a pirate captain. Recruit a crew, outfit and customize your ship and set sail on the open seas. There you'll use any combination of aggression, diversion and trade to become the most infamous pirate crew of the seven seas! You can raid, pillage and plunder everything in your path, divert and lie to get what you want or trade for a quick buck. Remember to be careful though, death is everywhere and quite permanent! Adventure awaits…


Current features:

Sandbox open world Pirate simulator.
Procedurally generated world that changes each new game you play. While not a Roguelike in the strictest of sense, it does strike of one.
Vast over-world map full of danger, loot, and people to prey on.
Comprehensive loot system, upgrade-able weapons and armor, special and secret loot to deck out your sailors.
Parrots, Pets and Plunder!!
Death around every corner, our permadeath system will have you tearing your hair out at each loss and shrieking in delight at each victory.
Each playthrough will require around 20 hours to get through (with at least 4 playthroughs needed to see all the game has to offer)
CONSTANT updates and content patches. We update on a weekly basis (Friday), and will continue to do so for at least a year after launch in order to provide many new systems, fixes, and bits of content.

For more details on the game visit or follow us @pixelpiracygame or @alexpoysky or visit www.piracysim.com
PC System Requirements
Minimum:


OS: Windows 7

Processor: 1.6 GHZ

Memory: 1 GB RAM

Graphics: Pixel Shader Capable Graphics card

DirectX: Version 9.0c

Hard Drive: 200 MB available space
Mac System Requirements
Minimum:


OS: 10

Processor: Intel I-3
Linux System Requirements
Minimum:


OS: UBUNTU

Processor: 1.6 GHZ

Memory: 1 GB RAM

Hard Drive: 200 MB available space
Helpful customer reviews
Title:
Pixel Piracy
Genre:
Indie
,
RPG
,
Simulation
,
Early Access
Developer:
Vitali Kirpu
,
Alexander Poysky
Publisher:
Quadro Delta
,
Re-Logic
Release Date:
Jul 5, 2014
Languages:
| | Interface | Full audio | Subtitles |
| --- | --- | --- | --- |
| English | | | |
| French | | | |
| German | | | |
| Spanish | | | |
| Finnish | | | |
| Portuguese-Brazil | | | |
See all 6 supported languages
Awards
Indiedb IOTY Editors choice 2013