Downloadable Content for
Alan Wake
Released Mar 2, 2012
Developer Commentary Videos While you play the game listen to the Remedy team's comments about the locations and design. The commentary contains about one hour of videos, you can activate it from the in-game menu options. Illustrated PDF Book A brave and deeply disturbing account of one man's attempt to confront the visions that haunted him.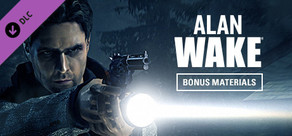 Released Dec 17, 2013
Bonus videos Early demo videos, making of documentaries, the story of Remedy, Balance Slays the Demon music video and a clip from the Harry Garrett Show. Visual exploration Alan Wake's visual identity guidelines, concept art, production photos, high resolution wallpapers and printable cardboard cutout characters.