Downloadable Content for
Tom Clancy's Splinter Cell Blacklist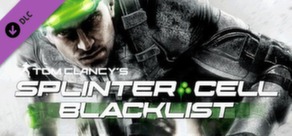 Released Aug 20, 2013
Get the High Power pack, an explosive bundle of 5 powerful weapons that are usable in both single player and Spies vs Mercs! Weaponry Includes: AC S12 Shotgun GC36C Assault Rifle MP5-10 SMG PP-19 Black Market SMG USP45 Hand...
Released Sep 30, 2013
As leader of the newly formed 4th Echelon, Sam Fisher must hunt down merciless terrorists before The Blacklist countdown reaches zero. The Splinter Cell Blacklist DLC 2 contains all the essential items for fans to become Sam Fisher and stop the escalating Blacklist attacks.