Downloadable Content for
Highborn
Released Apr 24, 2013
Join in the fun of Highborn Chapter 2! Make new friends and battle new enemies as you explore the mysteries of the Frobozz Inter-Dimensional Portal Controller. Help Archie and the gang chase down Floyd and stop his evil plans to activate the "Master Monolith.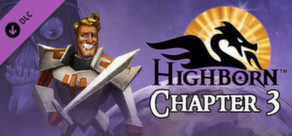 Released Nov 25, 2013
Play as the Decay! Highborn Chapter 3: "The Audacity" is now available. The Decay start off Chapter 3 in quite the predicament, with their leader, Arch-Lich Floyd, trapped in the deepest, darkest dungeon. Time for you to take control of the Decay to fight against the Highborn and figure a way out of this pickle!