Steel Storm A.M.M.O.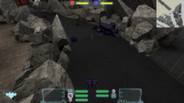 Action, Early Access, Indie, RPG, Sports, Strategy - Released: Sep 25, 2013
Steel Storm: A.M.M.O. - Armored Mechanized Mobile Operations (or SS: AMMO in short) is a fast-paced competitive arena shoot-em-up. Set in the Steel Storm universe, and an updated Japanese anime-inspired sci-fi world, you will get to pick an avatar* to represent...