PC-spel i fokus
Mac-spel i fokus
Linux-spel i fokus
Nya spel
Bästsäljare
Kommer snart
Specialerbjudanden
Det här är bara några av spelen i Steam Greenlight som behöver ditt stöd för att bli tillgängligt på Steam.
Play
Mount & Blade: Warband
for FREE starting now through Sunday at 1PM Pacific Time. If you already have Steam installed,
click here
to install or play Mount & Blade: Warband. If you don't have Steam, you can download it
here
. Erbjudandet gäller till måndag kl. 19:00 svensk tid (måndag kl. 10:00 Pacific Time).
Gemenskapens aktivitet
(senaste 48 timmarna)
Registrera dig för att se vilka spel dina vänner har spelat. Eller skapa ett gratis konto för att bygga din egen gemenskap på Steam.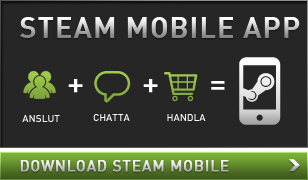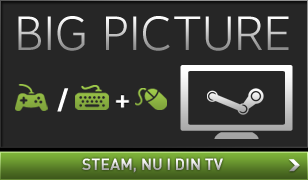 Gåvor på Steam
Nu kan du köpa gåvor på Steam. Då anger du helt enkelt att ditt köp är en gåva när du checkar ut i kassan, skriver ett litet meddelande till din kompis och sedan sköter vi resten.
Vanliga frågor
Gratis nerladdning på 1.5 MB.
Mer info om Steam
Varor
Valve-butiken
har öppet dygnet runt, och är ditt förstahandsval för prima prylar, affischer, böcker och samlarföremål till alla dina favoritspel från Valve.