Indie Games
New releases
Top Sellers
Coming soon
Specials

Darkwood
Action, Adventure, Indie, RPG, Early Access - Released: Jul 15, 2014
Darkwood is a game about survival, exploration and fear set in mysterious woods somewhere in the territory of the Soviet Bloc. By blending RPG, roguelike and adventure elements together with a challenging difficulty, Darkwood aims to please players craving for a deep...

Gods Will Be Watching
Adventure, Indie - Released: Jul 24, 2014
Gods Will Be Watching is a minimalistic "point and click thriller" centered on despair, commitment, and sacrifice as players face intriguing puzzles and tough decisions that will affect their entire crew's wellbeing.
$9.99

Adventurezator: When Pigs Fly
Adventure, Indie, Early Access - Released: Jul 23, 2014
The Adventurezator is an emergent adventure game about creating emergent adventure games! With easy to use tools, you'll be able to create adventures with no technical knowledge required. Create actors, cutscenes, levels and campaigns.

Unrest
Adventure, Indie, RPG - Released: Jul 23, 2014
Unrest is a role playing adventure game set in ancient India that adapts to death, failure, and the choices you make. Play as ordinary people in a struggle for food, safety, freedom, and a chance at peace.

Galactic Arms Race
Action, Casual, Indie - Released: Jun 5, 2014
Top-down 2.5D action that combines elements of space shooters like Star Control, action-RPGs like Diablo, and space adventure games like Freelancer with an infinite weapons system that evolves unique guns to player preferences.
$3.99
next 10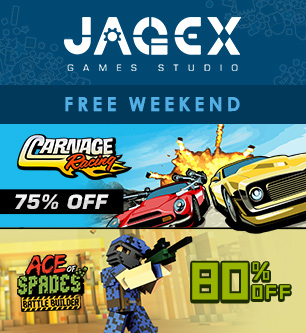 If you already have Steam installed,
click here
to install and play Ace of Spades: Battle Builder or
click here
to install and play Carnage Racing until Sunday at 1PM Pacific. If you don't have Steam, you can download it
here
. Offer ends Monday at 10am Pacific Time.