Downloadable Content for
Defenders of Ardania
Released May 22, 2012
Defenders of Ardania: The Conjurer's Tricks provides a new collection of units, towers and spells that can be used to conquer your opponents. Use new tactics and strategies to outwit the enemies. This collection comes with one new unit, tower and spell for each race. Key Features: UNITS Human - Bomb Cart: A special explosive unit.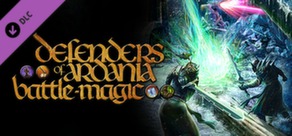 Released Apr 24, 2012
Battlemagic adds four new spells – a new spell for each of the playable races as well as one new spell that will be available for all races. Defenders of Ardania (DoA) is a next-generation tower defense game set in the rich fantasy world of Majesty with a twist.