Downloadable Content for
Delve Deeper
Released Jul 22, 2011
"Treasures and Tunnels," Delve Deeper's first DLC expansion, brings you 50% more Delve Deeper maps and 25% more treasure. For those counting, that's 10 new levels and 25 brand new relics. Each level is custom-tailored to be tackled by different team combinations, and each relic custom-designed to add new excitement to every map!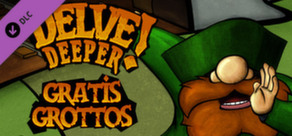 Released Jan 18, 2012
We've put Delve Deeper into the hands of the people. Two months ago we asked the fantastic fans of Delve Deeper to help us create our next DLC package. The maps and relics they came up with are supurb, and we're proud to release them to you in "Gratis Grottos," the second DLC package for Delve Deeper. FOR FREE.