Downloadable Content for
War of the Roses
Released Mar 7, 2013
Warriors, gird your loins in preparation as a force stronger than nature itself has emerged to step onto the battlefields of War of the Roses. Let the earth tremble as the unmistakable voice of the acting legend that is BRIAN BLESSED commands you (yes, YOU!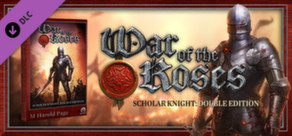 Released Jan 15, 2014
"The blade sheared through padding, collar bone, ribs, and came out the other side. Head, arm and shoulder thudded to the ground. The remainder of the corpse still stood, sheared torso like a bucket of steaming offal." England AD 1454, the chaotic eve of the Wars of the Roses. Jack Rose would rather be a scholar than a knight.