Downloadable Content for
R.U.S.E.™
Released Jan 18, 2011
The Chimera Pack breathes new life into both multiplayer and solo skirmishes. First, players will be challenged in 3 new multiplayer maps, with a real change of scenery. Solo mode has not been forgotten, with 3 exclusive challenges. Bir Hakeim drives your army into the Libyan desert, where the Free French Forces resisted the Axis Advance in 1942.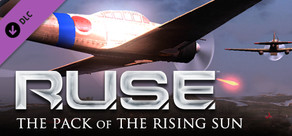 Released Feb 15, 2011
The Pack of The Rising Sun gives you the opportunity to command the Japanese Army in solo and multiplayer modes. You will also make the most of 28 new units and factories in 3 exclusive operations dedicated to the Imperial Japanese Army (Gold for the Brave, Ostfriesland, and For Honour).