Inhalte zum Herunterladen für
The Incredible Adventures of Van Helsing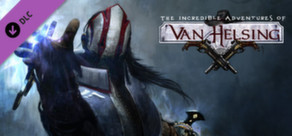 Veröffentlicht 26. Sep. 2013
You must be familiar with the traditional approach to monster hunting: grab a melee weapon, take a firearm (just to make sure), prepare your tricks and witness those creatures flee in terror! But there are other, somewhat unusual methods that rely on a quite different source – which is called magic.
Veröffentlicht 27. Juni 2013
At last! The Blue-blooded Ghostly Companion's Brand New Accessory for Improved and More Efficient Monster Hunting is finally here! Esteemed ladies and gentlemen, allow us to present Mr. Van Helsing's charming, beautiful and witty aide: Lady Katarina, who doesn't really require any further introduction.
Veröffentlicht 15. Okt. 2013
You probably thought that Weird Science was your enemy. And yes, you were right, but you can always fight fire with fire, as the saying goes. Or, more fittingly, fight those artificial monsters with arcane machinery: engulf them with poisonous fumes, scorch them with tongues of flame or deploy mechanical allies and traps and let them do the rest.