Downloadable Content for
Game of Thrones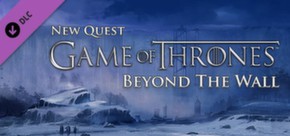 Released Nov 8, 2012
Travel beyond the Wall, 10 years prior to the events of Game of Thrones! Plunge into the dark past of Mors Westford and delve deep into Wildling territory in a perilous mission… that same mission where Mors earned his nickname.
Released Jul 2, 2012
In the Steam Weapon pack, access 14 exclusive weapons (swords, axes, hammers, shields, crossbows…) with unique characteristics and styles. These rare weapons of prestigious origin are offered by a traveling merchant found in Castleblack, King's Landing, and Riverspring.
Released Oct 4, 2012
Turn Mors' dog into a real killing machine with the DLC: DOG PACK! With these 2 alternative skins – the God's Eye Mastiff and the Dornish Hound – Mors' dog will hunt your enemies with style!