Nedladdningsbart innehåll för
Game of Thrones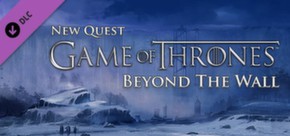 Släppt 8 nov, 2012
Travel beyond the Wall, 10 years prior to the events of Game of Thrones! Plunge into the dark past of Mors Westford and delve deep into Wildling territory in a perilous mission… that same mission where Mors earned his nickname.
Släppt 2 jul, 2012
In the Steam Weapon pack, access 14 exclusive weapons (swords, axes, hammers, shields, crossbows…) with unique characteristics and styles. These rare weapons of prestigious origin are offered by a traveling merchant found in Castleblack, King's Landing, and Riverspring.
Släppt 4 okt, 2012
Turn Mors' dog into a real killing machine with the DLC: DOG PACK! With these 2 alternative skins – the God's Eye Mastiff and the Dornish Hound – Mors' dog will hunt your enemies with style!