Downloadable Content for
Port Royale 3
Released Dec 11, 2012
Everybody who looks for new challenges should try the New Adventures DLC. Five new scenarios are waiting for you, each one with unique task that will let you experience unseen and thrilling situations. So you will help the city of Corpus Christi in "The Ascension of Christi" to become rich and well-respected within a short time or you have to...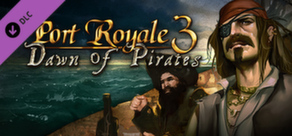 Released Nov 14, 2012
Dawn of Pirates offers you a whole new singleplayer-campaign, in which you can make some trouble in the Caribbean as a pirate. You will start your raids from your own hideout but cities may be restricted to you. Your aim in Dawn of Pirates is to become the most notorious pirate in the Caribbean by raiding and plundering.
Released Oct 16, 2012
With the Harbour Master DLC you can enhance Port Royale 3 with six completely new building types, several decoration objects for your cities and with an economic adviser, who will give you useful hints. In addition you will now have more control over the defense of your cities and you will be able to build ships on your own!