Downloadable Content for
Orcs Must Die!
Released Oct 25, 2011
Expand your Orcs Must Die! arsenal with two new weapons and two new traps. With the Artifacts of Power in your spellbook, you'll be demolishing levels, beating your friends on the leaderboards, and most importantly, killing a bunch of orcs deader than dead. Only the best tools for the last surviving War Mage!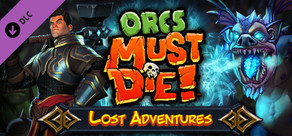 Released Nov 8, 2011
Think you've killed enough orcs? Think again! Return to the dead world beyond the rifts and conquer a new series of challenging fortresses under siege by the orc mob. In Orcs Must Die! – Lost Adventures you'll travel from the depths of the Pit to the narrow passages high over the Great Gorge.