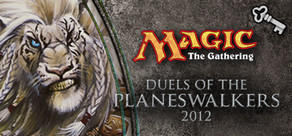 Om dit spel te kunnen spelen moet je het originele spel Magic: The Gathering 2012 - Expansion hebben.

Pakketten die deze game bevatten
Magic 2012 Gold Deck Bundle kopen
Includes all Deck Unlocks and Foil Conversions for Duels 2012
Info over het spel
Ajani Goldmane's fully unlocked "Auramancer" white and green deck. A native of the Naya shard of Alara, Ajani Goldmane was once solely focused on revenge for his brother's murder. This led him into a tangle of intrigue woven by mysterious forces, and Ajani's been forced to broaden his skills as a warrior. Some creatures in this deck start out impressively large, but beefed up by a few enchantments and they become colossal.
(Contains no new content. This content is also available through game play.)
Systeemeisen
OS: Windows 7/Vista/XP
Processor: 2GHz CPU (Pentium 4 or equivalent)
Memory: 1GB RAM (2GB for Vista)
DirectX®: DirectX 9.0c or later
Hard Drive: 700MB
Sound: DirectX 9.0c compatible sound card
Video: 256MB VRAM GPU capable of Pixel Shader 3 or better
Additional: Co-op gameplay is online only.
Wizards of the Coast, Magic: The Gathering, Duels of the Planeswalkers, and their respective logos are trademarks of Wizards of the Coast LLC in the U.S.A. and other countries. Other trademarks are property of their respective owners. ©2011 Wizards of the Coast LLC.
Nuttige klantrecensies
Instead of earning your decks while in game you can buy them at a small price. With this downloadable content you can unlock this deck and use it at your discretion forever. This is a great thing to do but you might be wasting your money if you already know that you can unlock the deck already in game while just playing. This purchase just makes customizing decks easier and more convenient since you'll be unlocking the deck right away. I do suggest buying this little shortcut if you are too lazy to earn it while in game or think you can't earn it while in game. If you plan to play online then its a great idea to buy this downloadable content to make sure your not at a disadvantage while playing your opponents. To unlock decks in game you have to beat certain players in the campaign which at times can be a challenge but very rewarding since you unlock decks. This DLC deck unlock is there if you need it and if you know you don't then don't buy it and earn all the decks while in game.
Titel:
Magic 2012 Full Deck "Auramancer"
Genre:
Strategie
Ontwikkelaar:
Stainless Games Ltd
Uitgever:
Wizards of the Coast LLC
Talen:
| | Interface | Spraak | Ondertiteling |
| --- | --- | --- | --- |
| Engels | | | |
| Frans | | | |
| Duits | | | |
| Italiaans | | | |
| Spaans | | | |