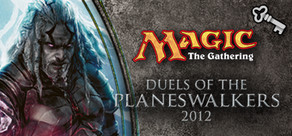 Krever hovedspillet Magic: The Gathering - Duels of the Planeswalkers 2012 i Steam for å kunne spilles.

This item does not have support for your local language. Please review the supported language list before purchasing
Pakker som inkluderer dette spillet
Kjøp Magic 2012 Gold Deck Bundle
Includes all Deck Unlocks and Foil Conversions for Duels 2012
Om spillet
Tezzeret's fully unlocked "Machinations" blue-black-white deck for Magic: The Gathering — Duels of the Planeswalkers 2012. Tezzeret is a master of artifice, able to forge and manipulate artifacts. A native of the Esper shard of Alara, his body is infused with the magical alloy etherium. His skill in using artifacts to great advantage can be seen in this deck. Smaller artifacts can be grown or reshaped into larger threats. Your countermagic allows you to and maintain control of the battlefield and assure victory!
(Contains no new content. This content is also available through game play.)
Systemkrav
Operativsystem: Windows 7/Vista/XP
Prosessor: 2GHz CPU (Pentium 4 eller like kraftig)
Minne: 1GB RAM (2GB for Vista)
DirectX®: DirectX 9.0c eller senere
Harddisk: 700MB
Lyd: DirectX 9.0c-kompatibelt lydkort
Grafikk: 256MB VRAM GPU i stand til Pixel Shader 3 eller bedre
Ytterligere:Samarbeids-gameplay er kun på nett.
Wizards of the Coast, Magic: The Gathering, Duels of the Planeswalkers, and their respective logos are trademarks of Wizards of the Coast LLC in the U.S.A. and other countries. Other trademarks are property of their respective owners. ©2011 Wizards of the Coast LLC.
Hjelpsomme kundeanmeldelser
2,354 produkter på kontoen
402 anmeldelser
Instead of earning your decks while in game you can buy them at a small price. With this downloadable content you can unlock this deck and use it at your discretion forever. This is a great thing to do but you might be wasting your money if you already know that you can unlock the deck already in game while just playing. This purchase just makes customizing decks easier and more convenient since you'll be unlocking the deck right away. I do suggest buying this little shortcut if you are too lazy to earn it while in game or think you can't earn it while in game. If you plan to play online then its a great idea to buy this downloadable content to make sure your not at a disadvantage while playing your opponents. To unlock decks in game you have to beat certain players in the campaign which at times can be a challenge but very rewarding since you unlock decks. This DLC deck unlock is there if you need it and if you know you don't then don't buy it and earn all the decks while in game.
Tittel:
Magic 2012 Full Deck "Machinations"
Sjanger:
Strategi
Utvikler:
Stainless Games Ltd
Utgiver:
Wizards of the Coast LLC
Språk:
| | Grensesnitt | Full lyd | Teksting |
| --- | --- | --- | --- |
| Engelsk | | | |
| Fransk | | | |
| Tysk | | | |
| Italiensk | | | |
| Spansk | | | |