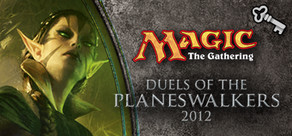 Çalışması için Magic: The Gathering - Duels of the Planeswalkers 2012 oyununun Steam sürümüne sahip olmanız gerekmektedir.

Bu oyunu içeren paketler
Magic 2012 Gold Deck Bundle Satın Alın
Includes all Deck Unlocks and Foil Conversions for Duels 2012
Oyun Açıklaması
Nissa Revane's fully unlocked "Guardians of the Wood" green-black deck for Magic: The Gathering — Duels of the Planeswalkers 2012. Nissa Revane believes in one thing: the strength of her people. She commands an impressive army of elves: warriors and fighters, clerics and mages, all willing to fight and die for her and her goals of elvish dominance. If swarming your enemy doesn't quite get the job done, eliminate the strongest opposition with pinpoint removal spells and claim victory!
(Contains no new content. This content is also available through game play.)
Sistem Gereksinimleri
İşletim Sistemi: Windows 7/Vista/XP
İşlemci: 2GHz CPU (Pentium 4 veya dengi)
Bellek: 1GB RAM (Vista için 2GB)
DirectX®: DirectX 9.0c veya sonrası
Sabit Disk: 700MB
Ses: DirectX 9.0c uyumlu ses kartı
Ekran Kartı: 256MB video belleği ve Pixel Shader 3 desteği
Ek Olarak: Eşli oyun sadece çevrimiçi oynanabilir.
Wizards of the Coast, Magic: The Gathering, Duels of the Planeswalkers, and their respective logos are trademarks of Wizards of the Coast LLC in the U.S.A. and other countries. Other trademarks are property of their respective owners. ©2011 Wizards of the Coast LLC.
Helpful customer reviews
1 kişiden 0 tanesi (0%) bu incelemeyi yararlı buldu
1,996 products in account
398 reviews
Instead of earning your decks while in game you can buy them at a small price. With this downloadable content you can unlock this deck and use it at your discretion forever. This is a great thing to do but you might be wasting your money if you already know that you can unlock the deck already in game while just playing. This purchase just makes customizing decks easier and more convenient since you'll be unlocking the deck right away. I do suggest buying this little shortcut if you are too lazy to earn it while in game or think you can't earn it while in game. If you plan to play online then its a great idea to buy this downloadable content to make sure your not at a disadvantage while playing your opponents. To unlock decks in game you have to beat certain players in the campaign which at times can be a challenge but very rewarding since you unlock decks. This DLC deck unlock is there if you need it and if you know you don't then don't buy it and earn all the decks while in game.
Başlık:
Magic 2012 Full Deck "Guardians of the Wood"
Tür:
Strateji
Geliştirici:
Stainless Games Ltd
Yayımcı:
Wizards of the Coast LLC
Diller:
| | Interface | Full audio | Alt yazılar |
| --- | --- | --- | --- |
| İngilizce | | | |
| Fransızca | | | |
| Almanca | | | |
| İtalyanca | | | |
| İspanyolca | | | |