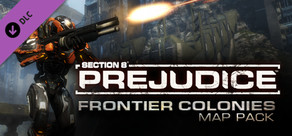 Om dit spel te kunnen spelen moet je het originele spel Section 8®: Prejudice™ hebben.

Releasedatum: 16 aug 2011
Section 8: Prejudice - Frontier Colonies Map Pack kopen
Pakketten die deze game bevatten
Section 8: Prejudice - Content Pack kopen
Bevat 3 items: Section 8: Prejudice Blitz Pack, Section 8: Prejudice Overdrive Map Pack, Section 8: Prejudice Frontier Colonies Map Pack
Info over het spel
Het Frontier Colonies-mappakket bestaat uit twee nieuwe multiplayermaps, Desolation en Overseer. Desolation is een dorre woestijn die achtervolgd wordt door een mislukte colonisatiepoging. In Overseer bevindt zich een militaire basis die uitkijkt op een bewoonde bosvallei. Elke map is zowel in multiplayer en offline beschikbaar om te spelen, voor alle spelmodi.
Systeemeisen
Minimum:

OS: Windows® XP/Windows Vista®/Windows® 7
Processor: Intel 3.0GHz (single), 2.0GHz (dual), or AMD AthlonXP3200+
Memory: 2 GB RAM
Graphics: NVIDIA GeForce 7800 or ATI Radeon X1900 (NVIDIA GeForce GTX 460 or better recommended)
DirectX®: DirectX 9.0
Hard Drive: 5.5 GB space free
Sound: DirectX 9.0 compatible sound card
© 2011 TimeGate Studios, Inc. "Section 8", "Prejudice", and "TimeGate" are copyrights and trademarks of TimeGate Studios, Inc. in the United States and elsewhere. All rights reserved.
Nuttige klantrecensies
2 van de 3 mensen (67%) vonden deze recensie nuttig
2,371 producten op account
402 recensies
The two multiplayer maps that this gives are huge and full of details. This is for online play but can be played in Offiline mode. Its a great addition to the game and if you plan to play multiplayer then don't miss out on this extra content.
Titel:
Section 8: Prejudice Frontier Colonies Map Pack
Genre:
Actie
Ontwikkelaar:
TimeGate Studios
Uitgever:
TimeGate Studios
Releasedatum:
16 aug 2011
Talen:
| | Interface | Spraak | Ondertiteling |
| --- | --- | --- | --- |
| Engels | | | |
| Frans | | | |
| Duits | | | |
| Italiaans | | | |
| Spaans | | | |