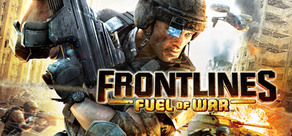 Jetzt handeln und Ihren Rabatt auf Frontlines: Fuel of War sichern!
Veröffentlichung: 27 Feb. 2008
Über das Spiel
Frontlines™: Fuel of War™ ist ein weitläufiger First Person Shooter an den Frontlinien der Zukunft. Die Welt ist von einer massiven Energiekrise zerüttet, die Umwelt verfällt und wir befinden uns in einer wirtschaftlichen Depression. Der Spieler nimmt die Rolle eines Elite-Soldaten der westlichen Koalition ein und muss auf einem epischen Kreuzzug gegen die Rot-Stern Allianz die Kontrolle über die letzten Erdölreserven sichern. Frontlines: Fuel of War kombiniert filmisches, unvorhersehbares Spielgeschehen mit der Feuerkraft von Waffensystemen der Zukunft und dem revolutionären Frontline Combat System™, um das nervenaufreibenste und intensivste FPS-Erlebnis überhaupt zu bieten.
Frontline Combat System – Im Einzelspieler- als auch im Mehrspielermodus können Sie Ihre Kräfte an der Frontlinie in nervenaufreibenden Gefechten fokussieren.

Offene Umwelt - Im Einzelspieler- als auch im Mehrspielermodus können Sie Ihren eigenen Weg zum Sieg wählen und unvorhersehbare Missionziele verfolgen und die demolierbare Umwelt zu Ihrem Vorteil nutzen.

Feuerkraft der nächsten Generation - Über 60 Fahrzeuge und Waffen, die von Bauplänen zukünftiger Millität-Designs inspiriert sind, beinhalten Jets, Helikopter, Panzer, APCs und mehr.

Anpassbares Soldatensystem - Individualisieren Sie Ihren Charakter und kreieren Sie so Ihren eigenen Spieltypus durch Charakterwahl, Waffenaustattung und Spezialisierungen.

Erweitertes Team Play - Unterstützung für bis zu 64 Spieler auf PC via LAN oder Internet mit Squad-VOIP, geteilten Zielsuchern und vielem mehr.
Systemvoraussetzungen
Mindestanforderung:


Betriebssystem: Windows XP (32/64) oder Windows Vista (32/64)

Prozessor: Intel Pentium 2.8HT oder AMD Athlon 2800+

Speicher: 768MB/1GB für Vista

Grafik: nVidia 6800GT (SM3) oder ATI X800XT (SM2) mit neuesten Treibern

DirectX Version: DirectX 9.0

Sound: AC '97 oder vergleichbare DirectX 9.0c kompatible Soundkarte

Festplatte: 12 GB

Internet: Breitband Internetverbindung (mind. 768K upload für Game-Hosting)
Empfohlen:


Betriebssystem: Windows XP (32/64) oder Windows Vista (32/64)

Prozessor: Intel Core2 E6400 (2.13 GHz) oder AMD X2 5000+

Speicher: 1.5 GB

Grafik: nVidia 8600GTX oder ATI X2600 mit neuesten Treibern

DirectX Version: DirectX 9.0

Sound: Creative Labs X-Fi Soundkarte

Festplatte: 12 GB

Internet: Breitband Internetverbindung (mind. 768K upload für Game-Hosting)
Hilfreiche Kundenreviews