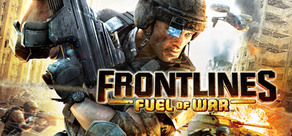 Agissez maintenant pour économisez gros sur Frontlines: Fuel of War !
Date de parution: 27 fév 2008
À propos du jeu
Frontlines™: Fuel of War™ est un jeu de tir subjectif qui se déroule dans un futur proche. Dans un monde rongé par une crise économique, énergétique et environnementale globale, le joueur est un soldat d'élite de la coalition occidentale combattant pour le contrôle de la dernière réserve de pétrole contre l'alliance de l'Etoile Rouge. Frontlines: Fuel combine extraits vidéo, scénario non linéaire, puissance de feu de la prochaine génération et un système révolutionnaire de combat : le Frontline Combat System™ pour vous apporter le meilleur du jeu de tir.
Frontline Combat System – En mode solo comme en mode multijoueur, rejoignez le front et plongez dans le feu de l'action.

Environnement ouvert - En mode solo comme en mode multijoueur, créez votre propre chemin vers la victoire dans ce scénario non linéaire avec pour cadre un environnement destructible. Progressez sur le champ de bataille. Si vous êtes tué, vous n'aurez pas à reprendre la progression de zéro.

Puissance de feu 'nouvelle génération' - Plus de 60 véhicules et armes de nouvelle génération incluant des hélicoptères, des avions, des chars d'assaut...

Soldat personnalisable - Personnalisez selon votre choix de jeu : armes, spécialités...

Travail d'équipe - Jusqu'à 64 joueurs sur PC en réseau local ou internet avec système de partage des cibles, section reliées par VOIP et plus encore.
Configuration requise
Minimum :


Système d'exploitation : Windows XP (32/64) ou Windows Vista (32/64)

Processeur : Intel Pentium 2.8HT ou AMD Athlon 2800+

Mémoire vive : 768 Mo de RAM / 1 Go de RAM pour Vista

Carte graphique : nVidia 6800GT (SM3) ou ATI X800XT (SM2) avec les derniers pilotes graphiques

Version DirectX : DirectX 9.0

Son : AC '97 ou carte son équivalente compatible DirectX 9.0c

Disque dur : 12 Go d'espace disque disponible

Internet : Connexion haut-débit (min 768K upload pour l'hébergement du jeu)
Recommandée :


Système d'exploitation : Windows XP (32/64) ou Windows Vista (32/64)

Processeur : Intel Core2 E6400 (2.13 GHz) ou AMD X2 5000+

Mémoire vive : 1.5 Go de RAM

Carte graphique : nVidia 8600GTX ou ATI X2600 avec les derniers pilotes graphiques

Version DirectX : DirectX 9.0

Son : Carte son Creative Labs X-Fi

Disque dur : 12 Go d'espace disque disponible

Internet : Connexion haut-débit (min 768K upload pour l'hébergement du jeu)
Évaluations intéressantes des utilisateurs