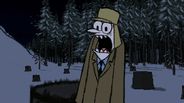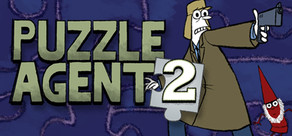 Agent Nelson Tethers heeft net zijn grootste zaak tot nu toe opgelost. Waarom is hij dan niet tevreden? Ga terug naar het spookachtige Scoggins in Minnesota, om het mysterie van "the Hidden People" voor eens en altijd op te lossen!
Releasedatum: 30 jun 2011
HD-video bekijken
Pakketten die deze game bevatten
Telltale Collection kopen
Bevat 19 items: Bone: The Great Cow Race, Bone: Out From Boneville, Telltale Texas Hold 'Em, Strong Bad's Cool Game for Attractive People: Season 1, Tales of Monkey Island Complete Pack, Sam & Max: The Devil's Playhouse , Puzzle Agent, Poker Night at the Inventory, Back to the Future: The Game, Jurassic Park: The Game, Hector: Badge of Carnage - Full Series, Sam & Max: Season One, Sam & Max: Season Two, Puzzle Agent 2, Law & Order: Legacies, The Walking Dead, Poker Night 2, The Wolf Among Us, The Walking Dead: Season 2
Info over het spel
Agent Nelson Tethers heeft zojuist de grootste zaak van zijn carrière opgelost. Dus waarom is hij nog niet tevreden? Er is nog steeds de zaak van een vermiste voorman van een gumfabriek, een fluisterend kwaad kruipt nog steeds van gedachte naar gedachte, en een verontrustende terugkeer van… wezens… vindt zijn weg naar de stad.
De FBI's Department of Puzzle Research heeft de zaak als gesloten bestempeld -- vegen ze het probleem weg? Of erger, maakt het ze niet uit? Bezorgd dat de zaak voor altijd onopgelost zal blijven, moet Tethers als schurk teruggaan naar de griezelige stad Scoggins, Minnesota om het mysterie van "de verdwenen personen" voor eens en altijd op te lossen.
Belangrijkste kenmerken:
Vervolg op het prijswinnende Puzzle Agent (PC Gamers Game of the Year, IGN's Best of E3 enz.)

Griezelig puzzelavontuur met mysterie en zwarte humor

Breder scala van intuïtieve maar uitdagende puzzels
Systeemeisen (PC)
OS: XP Service Pack 3 / Vista / Windows 7

Processor: 1.8 GHz Pentium 4 or equivalent (Rec: 2.0GHz Pentium 4 or equivalent)

Memory: 2 GB RAM (Rec: 3GB RAM)

Hard Disk Space: 500 Mb Space Free

Video Card: ATI or NVidia card w/ 256 MB RAM (Rec: ATI or NVidia card w/ 512 MB RAM)

DirectX®: Direct X 9.0c

Sound: Direct X 9.0 sound device

Systeemeisen (Mac)
OS: OS X version Snow Leopard 10.6.3, or later. (Not Compatible with Mac OS 10.8.x and above)

Processor: 2.3 GHz Intel or equivalent

Memory: 4 GB RAM

Hard Disk Space: 500 MB Space Free

Video Card: 512 MB NVidia or ATI graphics card

Additional: Not recommended for MAC Minis or early-generation MacBooks

© 2011 Telltale Inc. Telltale and the Telltale Games logo are trademarks of Telltale, Inc. Based on the Grickle series of books written and illustrated by Graham Annable. All rights reserved.
Nuttige klantrecensies