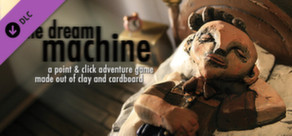 Om dit spel te kunnen spelen moet je het originele spel The Dream Machine: Chapter 1 & 2 hebben.

Releasedatum: 11 mei 2012
The Dream Machine Chapter 3 kopen
Pakketten die deze game bevatten
Recensies
"To play something like The Dream Machine, so exquisitely constructed, so smartly designed, and so atmospherically unique, is a singular pleasure." - Rock, Paper, Shotgun

"It's so confidently strung together, both in terms of narrative and gameplay, that it's easy to forget that it's the work of just two indie developers."
8/10 - Eurogamer

"A series filled with mystery and charm, elevated to lofty heights by its whimsical clay and cardboard design, surreal storyline, and heartfelt attention to detail."
4/5 - Adventure Gamers

"The Dream Machine is the best adventure game that I've played in the last decade – and maybe in my entire life."
9.5/10 - CD-Action
Info over het spel
The Dream Machine is an award-winning point & click adventure game about dreams and voyeurism. It's built by hand, using materials such as clay and cardboard.
In Chapter 3 of The Dream Machine, Victor enters the dream of his sleeping wife in an effort to shut down the mysterious dream machine, only to find himself on board a leisure cruise manned by multiple copies of himself.
Key Features
World: Explore a creepy apartment complex and uncover the mysteries within. Get to know your neighbours and discover their secrets.

Story: Delve into the minds of strangers and loved ones as you're trying to save them from The Dream Machine.

Graphics: Wander around beautifully detailed environments built using physical clay models and hand-crafted sets.

Puzzles: In order to progress you have to solve puzzles ranging from simple pushovers to fiendish brainteasers.

Music: A haunting original soundtrack weaves through the narrative, emphasizing the surreal atmosphere of the game.
Systeemeisen (PC)
OS: Windows XP or later
Processor: 1.8 GHz processor
Memory: 1 GB RAM
Hard Drive: 350 MB HD space
Systeemeisen (Mac)
OS: OSX Leopard 10.5.8, Snow Leopard 10.6.3, or later
Processor: Intel Mac 1.8 GHz processor
Memory: 1 GB RAM
Hard Drive: 350 MB HD space
©2014 The Sleeping Machine AB all rights reserved.
Er zijn nog geen openbare recensies voor dit product
Je kunt je eigen recensie voor dit product schrijven om je ervaring met de community te delen. Gebruik het gebied boven de aankoopknoppen op deze pagina om je recensie te schrijven.
Titel:
The Dream Machine: Chapter 3
Genre:
Avontuur
,
Casual
,
Indie
Ontwikkelaar:
The Sleeping Machine
Uitgever:
The Sleeping Machine
Releasedatum:
11 mei 2012
Talen:
| | Interface | Spraak | Ondertiteling |
| --- | --- | --- | --- |
| Engels | | | |
Prijzen