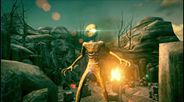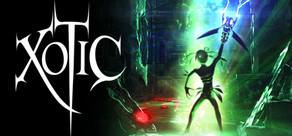 Rack up huge scores by shooting enemies, detonating chain reactions, and discovering secret power-ups and point multipliers
Release Date: Sep 16, 2011
Watch all 5 trailers
Downloadable Content For This Game
June 26
If you haven't picked up this great game yet, it's on sale until June 30th for only $2.49 and each DLC pack is only 49 cents!
0 comments
Read more
Reviews
"For those who want to test their first-person skills with the type of score-based arcade gameplay that is usually found in other genres, it does what it sets out to do and it does so successfully."
8/10 – Destructoid
About the Game
Xotic is an arcade-style first-person shooter where you rack up huge scores by shooting enemies, detonating chain reactions, and discovering secret power-ups and point multipliers. Armed with a weaponized symbiotic creature called the Macroterra, you must cleanse the evil presence and re-plant the seeds of life on a planet ravaged by the minions of the Orb.
Destroy the insidious scab plants and new life will grow in their place, diminishing the Orb's control of the planet. Trigger scab plant chain reactions to earn score multipliers and chain bonus points. Collect Orb essence to boost your score, or grab them in mid-air to earn an aerial combo bonus. Seek out and destroy the hidden Orb brains and collect all of the Orb essence in each level for even more points.
Earn experience points to upgrade your weapons and skills, including "Absorbtion" which pulls points towards you automatically! Unlock the secrets of "Hard Hologram" technology to deploy mobile shields or aerial landing platforms.
Xotic is a unique arcade shooter experience unlike anything you've played before. Get it now!
Key features
Arcade-style scoring and point combo mechanics
Unique "Hard Hologram" technology
Exceptionally colorful environments and effects
Upgradeable weapons and skills
Steam Leaderboards & Achievements
System Requirements
OS: Windows XP, Vista, 7
Processor: 1.7 GHz Dual Core or better
Memory: 2 GB Ram
Hard Disk Space: 3.5 GB Available space
Video Card: 512 MB DirectX 9.0c compatible graphics card (shader model 3)
DirectX®: 9.0c
Sound: DirectX 9.0c compatible
Helpful customer reviews