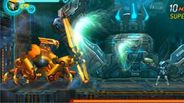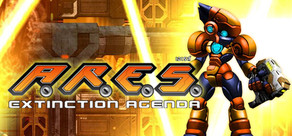 Jij bent het ultieme wapen met het ultieme hulpje - verzamel geheime voorwerpen en krijg power-ups om het perfecte wapen te worden.
Releasedatum: 20 jan 2011
HD-video bekijken
A.R.E.S.: Extinction Agenda kopen
Pakketten die deze game bevatten
A.R.E.S. Complete Edition kopen
Bevat 3 items: A.R.E.S.: Extinction Agenda, A.R.E.S.: Berzerker Suit, A.R.E.S.: Original Soundtrack
Downloadbare inhoud voor dit spel
Exclusieve aanbieding van Steam
Carbon Stealth Suit: (Yellow)

A light weight and non metal alternative to ARES traditional armor. Proves to be pleasing to the eye.

 

Indigo Pulse Suit: (Blue)

A prototype suit made of special materials discovered by United Earth which was estimated to be immune to Zytron Gas.
Info over het spel
A.R.E.S.: Extinction Agenda is the first chapter in a full featured episodic hardcore action packed side scrolling platformer, in the traditions of retro classics, where you play as Ares, a combat robot created for the sole purpose of saving humanity. Can you live up to the task or will you be reduced to nuts and bolts?
You are Ares, the first Zytron immune robot. A symbol of how far human technology has come, you are the most advanced robot in existence; built to run faster, jump higher, and fire quicker. In addition to these core attributes, your design includes a system for converting spare parts and resources into valuable items, armor, and weaponry. You will need to use everything at your disposal in order to reach and rescue the survivors aboard the Zytron infected space station.
Key features:
Play through various locations in the A.R.E.S. universe, each a beautiful, unique, 3D environment with challenging obstacles.

You are the ultimate weapon with the ultimate sidekick – Collect the secret items and get power up to become a perfect weapon.

Come face to face with colossal opponents, learn their patterns to defeat them in battle.

Destroy enemies, collect their parts, and then recycle them to make incredible items, including health packs, ammo, and weapon upgrades.
Systeemeisen
OS: Microsoft Windows XP, Windows Vista or Windows 7

Processor: Intel Core™2 Duo Processor, AMD Athlon x2 Processor

Memory: Windows XP:1GB, Windows Vista, 7:2GB

Graphics: NVIDIA GeForce 7600 series, ATI Radeon HD 2400 series

DirectX®: DirectX 9.0c

Hard Drive: 300 MB

Sound: DirectSound compatible (DirectX 9.0c or higher)

Nuttige klantrecensies