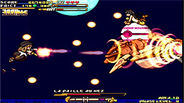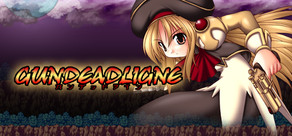 Tölts újra még több lövöldözős akcióhoz a GundeadliGne-vel, a Gundemonium Collection második játékával.
Megjelenés dátuma: 27 Szept 2011
Nézd meg a HD videót
Ezt a játékot tartalmazó csomagok
Gundemonium Collection vásárlása
3 elemet tartalmaz: Gundemonium Recollection, Hitogata Happa, GundeadliGne
A játékról:
Tölts újra még több lövöldözős akcióhoz a GundeadliGne-vel, a Gundemonium Collection második játékával; ez az anime stílusú oldalnézetes játék a "bullet hell" lövöldözős műfaj intenzitását hozza el a Steamre. Foglald el helyed zsoldosként, és segíts az erőfeszítésekben, melyek célja annak megakadályozása, hogy az alvilág démonai kiirtsák az emberiséget. Hozz egy barátot, töltsétek csőre a fegyvereket, és játsszatok együtt online együttműködő módban! Válassz két játékoskarakter közül, és küzdj a harmadik feloldásáért! A négy nehézségi szinttel intenzív csatát élsz majd át. További bónuszként válassz 6 különböző képességekkel rendelkező Matrix Master közül, hogy segítsenek az úton.
Fő jellemzők:
5 pályányi "bullet hell" őrület

Kellemesen régies, retró, anime stílusú grafika

Két játszható karakter, valamint egy feloldható harmadik

6 Matrix Master közül választhatsz

2 feloldható küldetésmód

11 Steam teljesítmény

Helyi két résztvevős többjátékos mód

Steamworks két résztvevős online többjátékos mód

Teljes körű online ranglisták

Új zenei anyag DM Ashurától
Rendszerkövetelmények
Operációs rendszer: Windows® XP, Vista, vagy Windows 7

Processzor: Intel® 1 GHz processzor (Ajánlott: 2 GHz)

Memória: 256 MB RAM (Ajánlott: 512 MB RAM)

Merevlemez-terület: 500 MB

Video: DirectX® 9 szintű videokártya

Hang: DirectSound kompatibilis hangkártya

DirectX®: DirectX 9 vagy magasabb
©2007-2011 Gundemonium Collection, Gundemonium Recollection, GundeadliGne, Hitogata Happa, ©Rockin' Android Inc. ©2007-2010 Platine Dispositif. Translation and localization are ©Rockin'Android Inc. The ratings icon is a registered trademark of the Entertainment Software Association. All other trademarks are properties of their respective owners. All rights reserved.
Hasznos vásárlói értékelések
Cím:
GundeadliGne
Műfaj:
Akció
,
Indie
Fejlesztő:
Platine Dispositif
Kiadó:
Rockin' Android
Megjelenés dátuma:
27 Szept 2011
Nyelvek:
| | Felület | Hang | Feliratozás |
| --- | --- | --- | --- |
| Angol | | | |
| Francia | | | |
| Olasz | | | |
| Német | | | |
| Spanyol | | | |