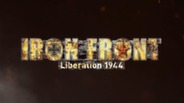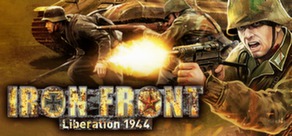 Command your own troops, man authentic weaponry and take to the sky in deadly warplanes.
Çıkış Tarihi: 25 May 2012
Fragmanları seyret (2 fragman)
Bu oyunu içeren paketler
Iron Front Digital War Edition Satın Alın
2 ürün içerir: Iron Front: Digital War Edition, Iron Front : D-Day 1944 DLC
Bu Oyun İçin İndirilebilir İçerikler
16 Mayıs
As you may have read already, GameSpy will be shutting down its services at the end of this month. Iron Front: Liberation 1944's multiplayer will unfortunately be among the hundreds of games affected by this. This means the normal GameSpy-powered multiplayer matchmaking will no longer work.

LAN multiplayer will be unaffected, however.

For the players who organize their multiplayer playsessions, we recommend using one of various LAN tunneling services (such as Tunngle or Evolve) to circumvent the effect the GameSpy shutdown has on matchmaking and server listings. Make sure to also check out the Iron Front fan forums to get in touch with other players who have been organizing events to date!

Singleplayer will not be affected.

Because we realize this is not good news for the existing Iron Front multiplayer community, we will soon be adding the D-Day DLC to the libraries of all Steam owners of Iron Front: Liberation 1944 for free.
34 yorum
Daha fazlasını oku
Oyun Açıklaması
Welcome to the front!
Poland, the summer of 1944: the Red Army is preparing to deal the killing blow to the Wehrmacht – and you are right in the middle of it. As a German or Soviet front line soldier, it will be your skills and tactical finesse that will determine if you reach the military objectives. Command your own troops, man authentic weaponry and take to the sky in deadly warplanes. Raging across huge battlefields on an unprecedented level of simulation, the heat of combat awaits you in the single player and multiplayer modes. This is where war shows its true face!
Key Features:
Tactical war simulation: play as a soldier in 1st person and as a commander in 3rd person

Large-scale battles involving infantry, tanks and warplanes

Commanding troops and vehicles, and steering all vehicles makes you feel like you're really there

Two campaigns against a historical backdrop

Lots of settings options, from shooter to tactical

Huge arsenal of authentic weapons

Over 35 vehicles and planes

Extensive multiplayer capabilities, with cooperative and PvP battles

Powerful editor
Sistem Gereksinimleri
OS:Windows XP, Windows Vista or Windows 7

Processor:Dual-core Intel Core 2.4 GHz or AMD Athlon 2.4 GHz

Memory:1 GB RAM

Graphics: Nvidia Geforce 8600GT or ATI Radeon 3650 or faster with Shader Model 3 and 512 MB VRAM

Hard Drive:10 GB HD space
Yararlı müşteri incelemeleri