Explore. Build. Conquer. EVE Online immerses you in a sci-fi experience where your every action can have rippling effects across a massive online universe. Team with and compete against over 500,000 players in epic starship battles or wage economic warfare on the galactic player-controlled market.
Udgivelsesdato: 6. maj 2003
Vis alle 15 trailere
Bemærk: Purchasing a Starter Pack will initiate the creation of a new EVE account. This account cannot be combined with any existing EVE account(trial included) and has to be accessed separately through the Steam client.

Monthly subscription fee required after first month. Subscriptions & PLEX through the Steam store can only be purchased by users that have purchased the EVE Online Starter Pack via Steam on or after June 4th, 2013.

Owners of the EVE Online: Starter Pack will be unable to purchase the EVE Online: Premium Edition for the same account.
Køb EVE Online - Core Starter Pack
Køb EVE Online - Premium Edition
Subscriptions
Køb abonnementplan til
Afkræves på en tilbagevendende basis.
Vælg en abbonementplan
PLEX
Buy EVE Online PLEX
PLEX is short for 30 Day Concord Pilot License Extension. It's an in-game item that can be used to pay for your subscription without using more traditional payment methods.
Vælg en betalingsmetode
Indhold, der kan downloades til dette spil
2. september
What is Donate Time?

"Donate Game Time" is an easy way to use PLEX to instantly gift 30 days of game time to another character (more information about PLEX can be found in the Knowledgebase article about PLEX

How to use "Donate Game Time"

To use the "Donate Game Time" feature you need to have at least one PLEX available in your inventory.

Check out the animation below for a visual guide and read on for more details.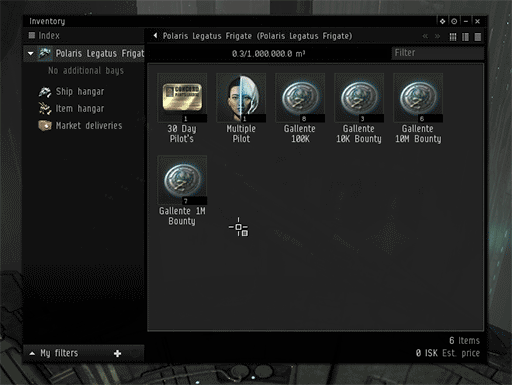 Simply right-click on the PLEX icon and then choose the "Activate PLEX" option from the popup menu. This will open a new window which shows several services available.

At the bottom of this window you will see the "Donate 30 days of game time" option. In the text field, type the name of the character you would like to donate the game time to.

As you type the character name, you will see a list populate with character names that match the text you have entered. Once their name appears, click on the character you would like to donate the game time to.

Once you have selected a character, the Donate button to the right will become clickable. Click the Donate button to start donating the game time.

The Donate button switches to a teal colored Confirm button.

You have 5 seconds to confirm your decision by clicking the button. Afterwards the Confirm button turns back to the Donate button and you will have to re-confirm your choice.

If you have selected the wrong character, you simply can remove the character by clicking the little white X in the text field.

Why use Donate Game Time?

With Donate Game Time you can give game time directly to your friends or to your own alt accounts without going through the process of transferring PLEX to another character, who would then have to actively use that PLEX themselves. It is also a very simple way to activate inactive accounts.

Donate Game Time saves you and the receiving character some time as you transfer the benefits from using PLEX instantly.

Donate Game Time to inactive and trial accounts

If the receiving character resides on an inactive account, the Donate Game Time feature will activate that account and 30 days of game time will be added.

If the receiving character is a trial account, the Donate Game Time feature will convert that account to a full subscribing account and adds 30 days of game time to that account. All trial account restrictions will be lifted.

Donate Game Time and the Buddy Program

If trial accounts invited via the Buddy Program are converted to fully subscribed accounts via the Donate Game Time feature, then the Buddy inviter will receive a reward just as if the trial account owner would have used a PLEX to upgrade the account.

More information about the Buddy Program can be found on the EVE Online Account Management

7 kommentarer
Læs mere
2. september
We are happy to announce that the Hyperion release has been deployed succesfully!

You can read an overview of all the improvements and features that arrived with the Hyperion release in the Coming in Hyperion Dev Blog, by CCP Seagull, Executive Producer for EVE Online, and check out the full patch notes on the Community Portal.

For general feedback on the Hyperion release, please use this thread. To report issues and problems, please usethis thread.

3 kommentarer
Læs mere
New Starter Pack and Add-Ons!



Introducing the new EVE Online Starter Pack! Designed from the ground up to kickstart a new pilot's career, the Core Starter Pack features a full arsenal of skills and gear for miners and crafters.

The Core Starter Pack includes:

The ORE Venture mining frigate

A full set of modules and equipment to kit out your ship

Over two dozen primary skills, ready to train

Blueprints to build the Venture and the deadly Corax destroyer

A Mobile Depot personal deployable

Avatar apparel: male "Esquire" and female "Executor" coats (black)

Prototype Cerebral Accelerator (skill booster)

30 days of game time
To help advance your career in space, choose one or more of the following Add-Ons:
The Colonist Add-On Pack equips you with the essentials for your own planetary industry colonies.

The Explorer Add-On Pack provides specialized gear for whose make their fortunes discovering and looting lost treasures.

The Industrialist Add-On Pack gives you skills, minerals, and blueprints to get started as a manufacturer of the machines of war.

The Skirmisher Add-On Pack arms you with a combat-ready Breacher frigate, ammo and the skills you need to learn to hold your own in battle.
EVE Premium Edition!



Leave all your options open and be ready for anything with the Premium Starter Pack. Everything from the Core Starter Pack and all four Add-Ons are included. We've also added some of the hottest battleship skins and PLEX, an in-game token worth 30 additional days of game time that can be used or traded on the EVE market. Be prepared for wherever your adventurous spirit wants to take you with the Premium Edition.

The Premium Edition includes:


Core Starter Pack (including 30 days of game time)

Colonist Add-on

Explorer Add-on

Industrialist Add-on

Skirmisher Add-on

Abaddon Tash-Murkon Battleship skin

Hyperion Innerzone Shipping Battleship skin

Maelstrom Nefantar Battleship skin

Rokh Wiyrkomi Edition Battleship skin

1 PLEX (30 additional days of game time)
Discover PLEX and play for free



PLEX is 30 days of game time in the form of a tradeable in-game item. If you need extra EVE currency (ISK), you can purchase PLEX for real money directly from Steam or through Account Management and sell it to other players on the in-game market. On the other hand, if you earn enough ISK, you can purchase PLEX from other players on the market and use it to extend your subscription – effectively playing for free.

PLEX is actively traded between players and can be found in every major trade hub of EVE Online. It is only consumed when you activate it, affording you the freedom to use it when and where you need it most.

Selling PLEX to boost your in-game wallet and buying PLEX to pay your subscription using in-game currency are just two of its many uses. PLEX can also be used to purchase various account services or even to pay for out of game events and products.
Om spillet
Udforsk. Byg. Erobr. EVE Online bringer dig ind i en sci-fi-oplevelse hvor hver handling, du tager, kan have skvulpende virkninger over et massivt online univers. Gå sammen og kæmp mod over 350.000 spillere i en episke starship-kampe eller udkæmp lønsom krigsførelse på det galaktiske, spillerkontrolerede marked.
Centrale elementer
Adskillige PVP-systemer – Meld dig til fraktionskrigsførelse som én af de fire EVE-racers loyalist idet du undgår lovene som en dybrum-pirat eller gå i krig i den storstilede alliancekrigskonflikt, hvor kampe kan bestå af over tusinde piloter, der tørner sammen i forsøget på at opnå overlegenhed blandt stjernerne. Eve online lader dig vælge PVP-typen, som passer din spilstil.

Massiv spillerdrevet økonomi – Alt, der købes og sælges på EVE Online-markedet, fremstilles og byttes as spillere. Køb og sælg ordre, kontrakter, kurér-aftaler - mange andre værktøjer er tilgængelige, så spilleren kan udgrave sit industrielle imperium. Stig til vejrs som en kløgtig entreprenør eller som et medlem af en af de mange eksisterende mega-virksomheder i EVE.

Udforskning, minearbejde, missioner – EVE Online tilbyder et forskelligt udvalg af udviklingsveje. Spillere kan skride frem som købmænd, industrialister, politikere, spioner eller mange andre karrierer uden begrænsninger. Hundredvis af evner, som kan trænes, og åben gameplay gør dig i stand til at definere rollen, du vil spille, i det virtuelle univers.

Befriende karakterudvikling - "Slæb" aldrig over en evne igen. Passivt evne-opnåelsessystem gør dine evner i stand til at stige, selv når du er offline.

Ét enkelt univers - Deltag med hundredtusindvis af spillere i det samme vedvarende univers, hvor din berømmelse eller vanære ikke begrænses til bare en delmængde af spilstammen.

Gratis udvidelser – Du vil aldrig skulle betale for en EVE-udvidelse - når EVE-universet bliver større, gør fordelene ved din subskription det også.

Spil GRATIS – Fastslåede spillere kan med tiden betale for deres spiltid med penge, de tjener, mens de spiller.
Systemkrav til PC
Minimumskrav:


Understøttede OS: Windows® XP Service Pack 2 / Vista / 7

Processor: Intel Pentium® eller AMD på 1,5 Ghz eller bedre, som understøtter SSE2

Hukommelse: XP (SP2) - 1 GB / Vista - 1,5 GB

Harddisk: 6GB ledig harddiskplads

Video: Shader Model 3.0-understøttede grafikkort

Drivere: DirectX® 9.0c (medfølger) og seneste grafikkortdrivere

Netværk: 56k modem eller bedre internetforbindelse

Bemærk: Den mindste skærmopløsning til EVE er 1024x768. Lydhardware skal være Direct Sound-kompatibel. Af hensyn til bedst mulig ydeevne skal du bruge de nyeste tilgængelige drivere. Bemærk, at Windows 95, Windows 98, ME, NT og 2000 før SP2 ikke er understøttet.
Anbefalet:


Understøttede OS: Windows® XP Service Pack 2 / Vista / 7

Processor: Intel Pentium® eller AMD dual core på 2 GHz eller bedre, som understøtter SSE2

Hukommelse: 2 GB

Harddisk: 6,0 GB ledig harddiskplads

Grafik: Shader Model 3.0 Grafikkort

Drivere: DirectX® 9.0c (medfølger) og seneste grafikkortdrivere

Netværk: ADSL-forbindelse eller hurtigere
Systemkrav til Mac
Minimum:



Supported OS: Mac OS X 10.7.5

Processor: CPU that supports SSE2 (Intel Dual Core @ 2.0 GHz)

Memory: 2 GB

Hard Drive: 20 GB Free Space

Video: GPU with 256 MB VRAM or more that supports Shader Model 3 and DirectX 9.0c (NVIDIA GeForce 320m, Intel HD 3000)

Audio: Supports SSE, Direct Sound compatible

Network: ADSL connection (or faster)
Recommended:



OS: Mac OS X 10.7.5

Processor: Intel i7 Series @ 3.0 GHz or greater

Memory: 8 GB or greater

Hard Drive: 20 GB Free Space

Video: NVIDIA GeForce 675mx or better with at least 1 GB VRAM

Audio: Supports SSE, Direct Sound compatible

Network: ADSL connection (or faster)
Helpful customer reviews
Priser
MMORPG.com
2011 Players' Choice Game of the Year
TenTonHammer
2010 Online Community of the Decade
GDC Online
2010 Best Live Game of the Year