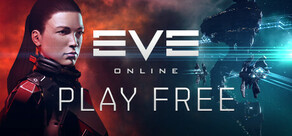 Explore. Build. Conquer. EVE Online immerses you in a sci-fi experience where your every action can have rippling effects across a massive online universe. Team with and compete against over 500,000 players in epic starship battles or wage economic warfare on the galactic player-controlled market.
Release Date: May 6, 2003
Watch all 15 trailers
Notice: Purchasing a Starter Pack will initiate the creation of a new EVE account. This account cannot be combined with any existing EVE account(trial included) and has to be accessed separately through the Steam client.

Monthly subscription fee required after first month. Subscriptions & PLEX through the Steam store can only be purchased by users that have purchased the EVE Online Starter Pack via Steam on or after June 4th, 2013.

Owners of the EVE Online: Starter Pack will be unable to purchase the EVE Online: Premium Edition for the same account.
Buy EVE Online - Core Starter Pack
Buy EVE Online - Premium Edition
Subscriptions
Buy EVE Online Subscription Plan
To be billed on a recurring basis.
Select a subscription plan
PLEX
Buy EVE Online PLEX
PLEX is short for 30 Day Concord Pilot License Extension. It's an in-game item that can be used to pay for your subscription without using more traditional payment methods.
Select a purchase option
Downloadable Content For This Game
July 15th, 2014
We are happy to announce that the Crius feature site is now live, detailing all the changes coming with the Crius Release on July 22, 2014!

In addition to this, the latest In Development video is also now available on YouTube for your viewing pleasure, where CCP Mimic speaks with CCP Nullarbor and CCP Tuxford about what's coming in the Crius release next week.

Check out these two sources, as well as the Dev Blogs listing on the Community Portal for further information on what's coming with the next release on July 22!

Full patch notes and &nbsp;details of downtime for the Crius release will be forthcoming toward the back end of this week.</p>

Enjoy!

13 comments
Read more
May 6th, 2014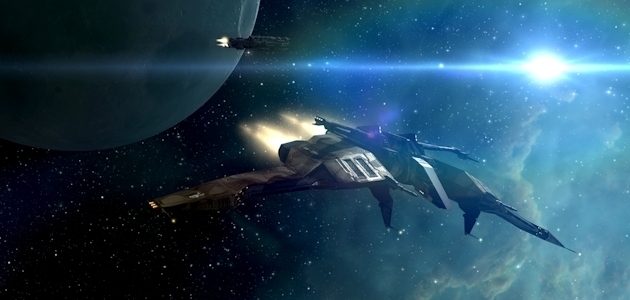 Welcome to a new year for New Eden!

To celebrate the epic decade of history that our community has written in the last 11 years, you'll find a small token of our gratitude in your redeeming system, three Gecko superheavy drones designed by the Guristas and sporting more damage, more durability and more striking power than any drone ever released before.

As of downtime today, you have the chance to unlock a further eight of these drones for each player on Tranquility, totaling 11, one for each year of existance EVE Online is celebrating, by completing a number of challenges as a collective community.  You can see details of the challenges on the EVE 11 Celebration page, and track the community's progress toward each goal.

At downtime on May 13th, the counters will close, and the number of Geckos successfully unlocked will be issued to every player on Tranquility.

Start mining, fighting, manufacturing and playing today on order to claim your rewards!

Happy Anniversary from CCP Games!
16 comments
Read more
New Starter Pack and Add-Ons!



Introducing the new EVE Online Starter Pack! Designed from the ground up to kickstart a new pilot's career, the Core Starter Pack features a full arsenal of skills and gear for miners and crafters.

The Core Starter Pack includes:

The ORE Venture mining frigate

A full set of modules and equipment to kit out your ship

Over two dozen primary skills, ready to train

Blueprints to build the Venture and the deadly Corax destroyer

A Mobile Depot personal deployable

Avatar apparel: male "Esquire" and female "Executor" coats (black)

Prototype Cerebral Accelerator (skill booster)

30 days of game time
To help advance your career in space, choose one or more of the following Add-Ons:
The Colonist Add-On Pack equips you with the essentials for your own planetary industry colonies.

The Explorer Add-On Pack provides specialized gear for whose make their fortunes discovering and looting lost treasures.

The Industrialist Add-On Pack gives you skills, minerals, and blueprints to get started as a manufacturer of the machines of war.

The Skirmisher Add-On Pack arms you with a combat-ready Breacher frigate, ammo and the skills you need to learn to hold your own in battle.
EVE Premium Edition!


Leave all your options open and be ready for anything with the Premium Starter Pack. Everything from the Core Starter Pack and all four Add-Ons are included. We've also added some of the hottest battleship skins and PLEX, an in-game token worth 30 additional days of game time that can be used or traded on the EVE market. Be prepared for wherever your adventurous spirit wants to take you with the Premium Edition.

The Premium Edition includes:


Core Starter Pack (including 30 days of game time)

Colonist Add-on

Explorer Add-on

Industrialist Add-on

Skirmisher Add-on

Abaddon Tash-Murkon Battleship skin

Hyperion Innerzone Shipping Battleship skin

Maelstrom Nefantar Battleship skin

Rokh Wiyrkomi Edition Battleship skin

1 PLEX (30 additional days of game time)
Discover PLEX and play for free



PLEX is 30 days of game time in the form of a tradeable in-game item. If you need extra EVE currency (ISK), you can purchase PLEX for real money directly from Steam or through Account Management and sell it to other players on the in-game market. On the other hand, if you earn enough ISK, you can purchase PLEX from other players on the market and use it to extend your subscription – effectively playing for free.

PLEX is actively traded between players and can be found in every major trade hub of EVE Online. It is only consumed when you activate it, affording you the freedom to use it when and where you need it most.

Selling PLEX to boost your in-game wallet and buying PLEX to pay your subscription using in-game currency are just two of its many uses. PLEX can also be used to purchase various account services or even to pay for out of game events and products.
About the Game
Explore. Build. Conquer. EVE Online immerses you in a sci-fi experience where your every action can have rippling effects across a massive online universe. Team with and compete against over 500,000 players in epic starship battles or wage economic warfare on the galactic player-controlled market.
Key Features
Multiple PVP systems – Enlist in Factional Warfare as a loyalist of one of the four races of EVE, dodge the law as a deep space pirate or take arms in the large-scale conflict of alliance warfare where battles can consist of over a thousand pilots clashing for supremacy among the stars. EVE online lets you choose the type of PVP that fits your playstyle.

Massive Player-Driven Economy – Everything bought and sold on the EVE Online market is manufactured and traded by players. Buy and sell orders, contracts, courier agreements and many other tools of trade are available to let players carve their industrial empire. Rise to the top as a savvy entrepreneur or a member of one of the many existing mega-corporations in EVE.

Explorations, Mining, Missions – EVE Online offers a diverse range of progression paths. Players can advance as merchants, industrialists, politicians, spies or any number of other careers without limitation. Hundreds of trainable skills and open gameplay allow you to define the role you want to play in the virtual universe.

Liberating character advancement - Never "grind" for a skill again. Passive skill gain system allows your skills to increase even while you're offline.

Single-shard universe - Join hundreds of thousands of players in the same persistent universe, where your fame or infamy is not confined to just a subset of the playerbase.

Free expansions – You will never be charged for an EVE expansion - as the EVE universe grows, so do the benefits of your subscription.

Play for FREE – Established players can eventually pay for their game time with in-game money they earn while playing.
PC System Requirements
Minimum:


Supported OS: Windows XP Service Pack 2 / Vista / 7 / 8

Processor: CPU that supports SSE2 (Intel Dual Core @ 2.0 GHz, AMD Dual Core @ 2.0 GHz)

Memory: XP SP2 – 1 GB / Vista and newer – 2 GB

Hard Drive: 20 GB Free Space

Video: GPU with 256 MB VRAM or more that supports Shader Model 3 and DirectX 9.0c (AMD Radeon 2600 XT or NVIDIA GeForce 8600 GTS)

Audio: Supports SSE, Direct Sound compatible

Drivers: DirectX® 9.0c (included) and latest video drivers

Network: ADSL connection (or faster)

Note that older graphics cards such as the NVIDIA 6000 and 7000 series may work but are not officially supported. Please note that Windows 95, 98, ME, NT and 2000 are not supported.

Note: the minimum screen resolution for EVE is 1024x768. Audio hardware must be Direct Sound compatible. For optimum performance, use latest drivers available.
Recommended:


OS: Windows 7 / 8

Processor: Intel Pentium i7 Series or AMD X4 @ 2.0 GHz or greater

Memory: 4 GB or greater

Hard Drive: 20 GB free space

Video: AMD Radeon 6790 or NVIDIA GeForce GTX 560 or better with at least 1 GB VRAM

Audio: Supports SSE, Direct Sound compatible

Drivers: DirectX® 9.0c (included) and latest video drivers

Network: ADSL connection or faster
Mac System Requirements
Minimum:



Supported OS: Mac OS X 10.7.5

Processor: CPU that supports SSE2 (Intel Dual Core @ 2.0 GHz)

Memory: 2 GB

Hard Drive: 20 GB Free Space

Video: GPU with 256 MB VRAM or more that supports Shader Model 3 and DirectX 9.0c (NVIDIA GeForce 320m, Intel HD 3000)

Audio: Supports SSE, Direct Sound compatible

Network: ADSL connection (or faster)
Recommended:



OS: Mac OS X 10.7.5

Processor: Intel i7 Series @ 3.0 GHz or greater

Memory: 8 GB or greater

Hard Drive: 20 GB Free Space

Video: NVIDIA GeForce 675mx or better with at least 1 GB VRAM

Audio: Supports SSE, Direct Sound compatible

Network: ADSL connection (or faster)
Helpful customer reviews
Awards
MMORPG.com
2011 Players' Choice Game of the Year
TenTonHammer
2010 Online Community of the Decade
GDC Online
2010 Best Live Game of the Year