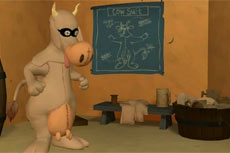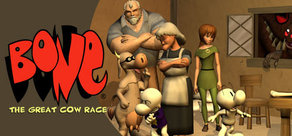 It's spring fair time and The Great Cow Race is about to begin! Play carnival games. Write love poetry. Outsmart a really big bee. Cheat the locals out of their hard-earned eggs. Bang on some pots and pans. Escape from an angry mob. Oh, and dress up like a cow. (Not necessarily in that order.
Fecha de lanzamiento: 12 Abr 2006
Ver vídeo en alta definición
Este artículo no está disponible en tu idioma local. Por favor, consulta abajo la lista de idiomas soportados antes de realizar la compra.
Paquetes que incluyen este juego
Comprar Bone Complete Bundle
Incluye 2 artículos: Bone: The Great Cow Race, Bone: Out From Boneville
Comprar Telltale Collection
Incluye 19 artículos: Bone: The Great Cow Race, Bone: Out From Boneville, Telltale Texas Hold 'Em, Strong Bad's Cool Game for Attractive People: Season 1, Tales of Monkey Island Complete Pack, Sam & Max: The Devil's Playhouse , Puzzle Agent, Poker Night at the Inventory, Back to the Future: The Game, Jurassic Park: The Game, Hector: Badge of Carnage - Full Series, Sam & Max: Season One, Sam & Max: Season Two, Puzzle Agent 2, Law & Order: Legacies, The Walking Dead, Poker Night 2, The Wolf Among Us, The Walking Dead: Season 2
Acerca del juego
It's spring fair time and The Great Cow Race is about to begin! Play carnival games. Write love poetry. Outsmart a really big bee. Cheat the locals out of their hard-earned eggs. Bang on some pots and pans. Escape from an angry mob. Oh, and dress up like a cow. (Not necessarily in that order.)
Requisitos del sistema
OS: Windows XP or Vista
Processor: 1.5GHz processor
Memory: 256MB RAM
Graphics: 32MB 3D-accelerated video card
Análisis útiles de usuarios