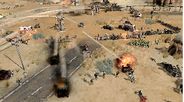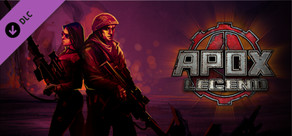 Om dit spel te kunnen spelen moet je het originele spel APOX hebben.

Releasedatum: 16 mei 2011
HD-video bekijken
This item does not have support for your local language. Please review the supported language list before purchasing
Downloadbare inhoud
Om dit spel te kunnen spelen moet je het originele spel APOX hebben.
Pakketten die deze game bevatten
APOX and Legend DLC Combo kopen
Bevat 2 items: APOX, APOX: Legend
Info over het spel
"The world ended because of man's constant fighting. But even with nothing left to fight over, we didn't stop... Fighting is all we know how to do."
In a fragmented post-apocalyptic wasteland, humanity's only hope is unity. Set in the world of APOX, APOX: Legend tells the story of one man - James Kane - and his belief in mankind to stand as one. From a loner in the wastelands to a leader of men - follow James Kane in his journey to uphold his father's legacy and reclaim the wastelands for a united Earth.
The Campaign is of over 3 hours of game play.
Systeemeisen
Besturingssysteem: Windows XP/Vista/7
Processor: 2GHz processor of hoger
Geheugen: 1GB of meer
Videokaart: DX9c-compatibele GPU, Pixel Shader 2.0 of hoger
DirectX®: DX9c
Harde schijf: 2GB
Er zijn nog geen openbare recensies voor dit product
Je kunt je eigen recensie voor dit product schrijven om je ervaring met de community te delen. Gebruik het gebied boven de aankoopknoppen op deze pagina om je recensie te schrijven.
Titel:
APOX: Legend
Genre:
Actie
,
Strategie
,
Indie
Ontwikkelaar:
BlueGiant Interactive
Uitgever:
BlueGiant Interactive
Releasedatum:
16 mei 2011
Talen:
| | Interface | Spraak | Ondertiteling |
| --- | --- | --- | --- |
| Engels | | | |
| Frans | | | |
| Duits | | | |
| Pools | | | |
| Portugees | | | |
| Spaans | | | |
Alle 6 ondersteunde talen weergeven