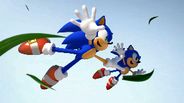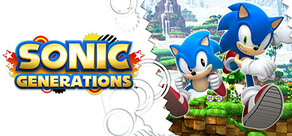 Celebrate 20 years of Sonic in an all new adventure that delivers a definitive experience to Sonic fans new and old!
Release Date: Nov 3, 2011
Watch HD video
Packages that include this game
Buy Sonic Hits Collection
Includes 17 items: Sonic & SEGA All-Stars Racing, Sonic 3D Blast™, Dr. Robotnik's Mean Bean Machine™, Sonic Spinball™, Sonic the Hedgehog, Sonic the Hedgehog 2, Sonic 3 and Knuckles, Sonic Adventure DX, Sonic Generations - Casino Nights DLC, Sonic CD, Sonic Generations, Sonic the Hedgehog 4 - Episode I, Sonic the Hedgehog 4 - Episode II, Sonic & All-Stars Racing Transformed, Sonic Adventure 2, SONIC ADVENTURE 2: BATTLE, Sonic and All-Stars Racing Transformed: Metal Sonic & Outrun DLC
Downloadable Content For This Game
About the Game
The ultimate celebration of 20 Years of Sonic gaming, Sonic Generations delivers the definitive experience for Sonic fans new and old.
Sonic's universe is thrown into chaos when a mysterious new power comes into force, creating 'time holes' which take Sonic and his friends back in time. Whilst there, Sonic runs into some very familiar characters from his past including a younger version of himself! Now they must team up to defeat their enemies, save their friends, and find out who is behind this diabolical deed.
Key Features:
Twice the Fun - Play as both Classic Sonic and Modern Sonic in the ultimate Sonic experience. Master the moves of each character as they race through each environment on their own designed built track.

The Best Bits Just Got Better - Iconic environments from gaming history come to life in beautiful HD for the ultimate Sonic adventure, each revisited, recreated and re-imagined with stunning results.

All New Experience - Play some of your gaming's most iconic environments in a whole new way with famous Sonic stages presented in stunning new stereoscopic 3D.

Unlock New Adventures - Once you complete each level and 'free' Sonic's captured friends, you'll get to go back and take on more challenges with them at your side.

Infamous Bosses and Rivals - Take on some of the most notorious characters from Sonic's past as you fight for ultimate supremacy.

Master Your Moves - Master Classic Sonics famous spin-dash attack and utilise Modern Sonic's 'Boost' as you complete all new tracks.
System Requirements
Minimum:


OS: Microsoft Windows 7/Vista/XP

Processor: Intel Pentium Dual-Core T4200 (2x2.0GHz) or AMD equivalent

Memory: 2GB RAM (XP)/3GB RAM (Windows 7 / Vista)

Graphics: NVIDIA GeForce 8800 (512MB) / ATI Radeon HD 2900 (512MB)

DirectX®:

Hard Drive: 11 GB free hard drive space

Sound:

Recommended:


OS: Microsoft Windows 7

Processor: Intel Core i5 @ 2.66 GHz / AMD Phenom II X4 @ 3.0 GHz

Memory: 3GB RAM

Graphics: NVIDIA GeForce GTX 460 (1GB) / ATI Radeon HD 5850 (1GB)

DirectX®:

Hard Drive: 11 GB free hard drive space

Sound:

© SEGA. SEGA, the SEGA logo and SONIC GENERATIONS are either registered trademarks or trademarks of SEGA Corporation. All rights reserved.
Helpful customer reviews