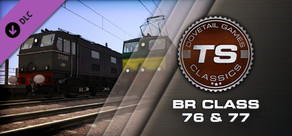 Este contenido requiere el juego base Train Simulator 2014 en Steam para poder jugar.
Fecha de lanzamiento: 23 Feb 2012
Contenido descargable
Este contenido requiere el juego base Train Simulator 2014 en Steam para poder jugar.
Comprar BR Class 76 & 77 Loco
Incluye el MK1 Coach Pack
Paquetes que incluyen este juego
Comprar Europe Ultimate Collection
Incluye 15 artículos: Isle of Wight Route Add-On, Fowler 4F Loco Add-On, Falmouth Branch Route Add-On, Edinburgh-Glasgow Route Add-On, Woodhead Route Add-On, BR Class 76 & 77 Loco Add-On, Freightliner Class 70 Loco Add-On, Settle to Carlisle Route Add-on, Southern Class 421 '4CIG' EMU Add-On, BR Robinson Class O4 Loco Add-On, Great Western Main Line Route Add-On, Somerset & Dorset Railway Route Add-On, Ruhr-Sieg Route Add-On, EWS Class 67 Loco Add-On, DB ICE 1 EMU Add-On
Acerca del juego
The Class 77 and 76 Add-On puts some high-voltage haulage on the Woodhead Line! Created as an add-on for the ,a href="http://store.steampowered.com/app/65244/">Woodhead Line Expansion Pack, the Class 77 and 76 Add-On includes both of these wonderful early electric locomotives with accurate liveries spanning the Woodhead electric era.
The Class 77 (originally named the EM2) electric locomotive was built in Manchester between 1953 and 1954, primarily designed for express passenger services between Manchester Piccadilly and Sheffield Victoria on the Woodhead Line. The class 77 was closely based on the Class 76, though with two extra axles and uncoupled bogies to give a smoother ride. Each of its six axles was driven by a 460-horsepower traction motor, and the class 77 also benefited from steam heating equipment for passenger trains. The Class 76 was essentially similar, though with only four axles and slightly different controls. The Class 76 ran until the closure of the Woodhead Line in 1981, while the Class 77s were sold to Netherlands State Railways and continued in service.
Includes:
Class 77 Co-Co electric locomotive in BR Black, BR Green and BR AC Electric Blue

Class 76 Bo-Bo electric locomotive in BR Green

Both locomotives have accurate in-cab controls including switchable traction modes and regenerative braking systems, as well as sun blinds and in-cab lighting.

5 scenarios for the Woodhead Line Expansion Pack plus 4 free roams.
PLEASE NOTE: the Class 77 and 76 add-on requires the Woodhead Line Expansion Pack in order to run.
Requisitos del sistema
SO: Windows XP / Vista / 7


Procesador: 1.7 GHz o superior


Memoria: 512 MB de RAM


Gráficos: 64 MB con Pixel Shader 2.0** (sólo AGP y PCIe)


DirectX®: Versión 9.0c (Incluido)


Disco Duro: 6 GB de espacio libre


Sonido: Compatible con Direct X 9.0c


Aún no hay análisis públicos para este producto
Puedes escribir tu propio análisis sobre este producto para compartir tus experiencias con la comunidad. Utiliza la zona que hay sobre los botones de compra en esta página para escribirlo.
Título:
BR Class 76 & 77 Loco Add-On
Género:
Simuladores
Desarrollador:
RailSimulator.com
Editor:
RailSimulator.com
Fecha de lanzamiento:
23 Feb 2012
Idiomas:
| | Interfaz | Voces | Subtítulos |
| --- | --- | --- | --- |
| Inglés | | | |