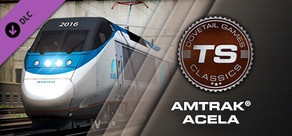 Este contenido requiere el juego base Train Simulator 2014 en Steam para poder jugar.
Fecha de lanzamiento: 13 Oct 2011
Este artículo no está disponible en tu idioma local. Por favor, consulta abajo la lista de idiomas soportados antes de realizar la compra.
Contenido descargable
Este contenido requiere el juego base Train Simulator 2014 en Steam para poder jugar.
Comprar Amtrak Acela Express Add-On
Paquetes que incluyen este juego
Comprar USA Collection
Incluye 5 artículos: Northeast Corridor Route Add-On, Amtrak Acela Express EMU Add-On, Union Pacific Big Boy Loco Add-On, Marias Pass Route Add-On, Great Northern F7 'Empire Builder' Loco Add-On
Comprar Train Simulator: Electric Collection
Incluye 6 artículos: Amtrak Acela Express EMU Add-On, PRR GG1 Loco Add-On, BR Class 422 '4BIG' EMU Add-On, DB BR423 EMU Add-On, BR Class 87 Loco Add-On, Metronom ME 146 Loco Add-On
Comprar USA Ultimate Collection
Incluye 14 artículos: BNSF ES44AC & SD40-2 Loco Add-On, Northeast Corridor Route Add-On, Horseshoe Curve Route Add-On, Amtrak Acela Express EMU Add-On, Donner Pass: Southern Pacific Route Add-On, PRR GG1 Loco Add-On, PRR K4 Loco Add-On, BNSF SD75 Loco Add-On, Southern Pacific Cab Forward Loco Add-On, Amtrak F40PH 'California Zephyr' Loco Add-On, Cajon Pass Route Add-On, Norfolk Southern SD40-2 High Nose Loco Add-On, CN SD40-2 Wide Nose Loco Add-On, SW1500 Switcher Loco Add-On
Acerca del juego
The Acela Express hauls North America's famous Amtrak high speed rail service between Washington D.C. and New York City. The Acela Express is highly detailed and includes all the familiar features of the real thing, including the tilting system which enables the train to take bends at high speed.
The Acela Express is the only train in North America which exceeds the Department of Transportation's 125mph minimum speed for true high speed rail services. It was designed specifically to operate along the Northeast Corridor serving the bustling cities of Washington D.C, Boston, Baltimore, Philadelphia and New York City, and can reach up to 150mph though it is restricted to lower speeds for much of the route. Each Acela Express set comprises two power cars running on 11,000 volts via overhead power cables, plus First and Business Class coaches. The Acela power cars develop 6,000 horsepower and with one at each end of the train, high speeds can be reached and maintained over long distances, with the in-built tilt mechanism allowing bends to be taken at speed without passenger discomfort. The Acela shares some design features with the French TGV, though its passenger cars do not share central bogies like the TGV, and they are heavier due to Federal Rail Administration safety standards.
PLEASE NOTE: The Acela Express requires the Northeast Corridor Expansion Pack (available separately) to run.
Includes:
Acela Express train set in Amtrak livery with power car, first class car, business class car and café car. Acela features operating tilt function, authentic sound effects, opening front hatch, flashing ground lights and detailed cab interior including functioning digital instrument readouts and in-cab signaling.
Standard / Career Scenarios
Acela Express - Drive the Acela Express from Philadelphia 30th Street to New York City

Business Bullet - Another day, another dollar. Take the morning commuters into New York, via Newark, starting at Tenton.

Silver Star - Drive an early service from NYC Penn Station to Trenton, Calling at Newark and Metropark on the way.
Requisitos del sistema
SO: Windows XP / Vista / 7


Procesador: 1.7 GHz o superior


Memoria: 512 MB de RAM


Gráficos: 64 MB con Pixel Shader 2.0** (sólo AGP y PCIe)


DirectX®: Versión 9.0c (Incluido)


Disco Duro: 6 GB de espacio libre


Sonido: Compatible con Direct X 9.0c


Amtrak is a registered service mark of the National Railroad Passenger Corporation. All rights reserved. Used with Permission.
Análisis útiles de usuarios
A 5 de 6 personas (83%) les ha sido útil este análisis
193 productos en la cuenta
58 análisis
Love the train, and you can take it on a number of tracks, just so long as they support other high-speed trains like the ICE-3 or Class 395.
Título:
Amtrak Acela Express EMU Add-On
Género:
Simuladores
Desarrollador:
RailSimulator.com
Editor:
RailSimulator.com
Fecha de lanzamiento:
13 Oct 2011
Idiomas:
| | Interfaz | Voces | Subtítulos |
| --- | --- | --- | --- |
| Inglés | | | |