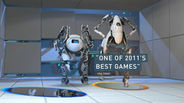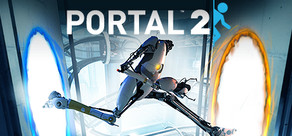 The "Perpetual Testing Initiative" has been expanded to allow you to design co-op puzzles for you and your friends!
Udgivelsesdato: 18 Apr 2011
Vis alle 17 trailere
Pakker, der indeholder dette spil
17 Juni 2014
We have updated the public release of Portal 2. This update contains all the changes from the recent beta. We would like to thank the community for the testing and suggestions that have been provided.

Changes:

Linux / SteamOS beta is now available

Steam controller support beta

Some translation updates

Fixed bugs with triple-monitor displays

Some other bug fixes
204 kommentarer
Læs mere
Perpetual Testing Initiative



The "Perpetual Testing Initiative" has just been expanded to allow users to design co-op puzzles in Portal 2! This update also introduces a "Quick Play" feature, giving you quick access to the top-rated maps in various categories.
Om spillet
Portal 2 er baseret på den præmievindende blanding af innovativt gameplay, historie og musik, som vandt det oprindelige Portal over 70 industri-præmier og skabte et kult-hit.
Singleplayer delen af Portal 2 introducerer et hold af dynamiske nye karakterer, et væld af friske puzzle-elementer og et meget større sæt af djævelske testkamre. Spilleren vil udforske områder i Aperture Science Labs, som aldrig er blevet set før, og vil blive genforenet med GLaDOS; den til tider morderiske computer-følgesvend, der guidede dem igennem det oprindelige spil.
Spillets to-spillers kooperative kampagne indeholder sin egen unikke historie, testkamre og to nye spiller-karakterer. Denne nye spilmåde tvinger spillerne til, at genoverveje alt de troede de vidste om portaler. Succes kræver, at de ikke bare spiller sammen, men også tænker sammen.
Produktet indeholder
Storslået singleplayer: Med næstegenerationsgameplay og en vildt fangende historie.

Komplet to-spillers co-op: Et multiplayerspil med sin helt egen historie, karakterer og gameplay.

Avanceret fysik: Tillader skabelsen af en hel vifte af nye interessante udfordringer, som skaber et langt større men ikke sværere spil.

Original musik.

En gigantisk efterfølger: Det oprindelige Portal blev kaldt Årets Spil af over 30 publikationer hele verden rundt.

Redigeringsværktøjer: Portal 2-redigeringsværktøjer er inkluderet.
Systemkrav til PC
OS: Windows 7 / Vista / XP

Processor: 3.0 GHz P4, Dual Core 2.0 (or higher) or AMD64X2 (or higher)

Memory: 1GB XP / 2GB Vista

Hard Disk Space: At least 7.6 GB of Space

Video: Video card must be 128 MB or more and should be a DirectX 9-compatible with support for Pixel Shader 2.0b (ATI Radeon X800 or higher / NVIDIA GeForce 7600 or higher / Intel HD Graphics 2000 or higher).

Audio: DirectX 9.0c compatible

Systemkrav til Mac
OS: MAC OS X 10.6.7 or higher

Processor: Intel Core Duo Processor (2GHz or better)

Memory: 2GB

Hard Disk Space: At least 7.6 GB of Space

Video: ATI Radeon 2400 or higher / NVIDIA 8600M or higher / Intel HD Graphics 3000

Helpful customer reviews