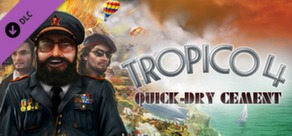 Kræver grundspillet Tropico 4: Steam Special Edition på Steam for at kunne spilles.

Udgivelsesdato: 7 Feb 2012
This item does not have support for your local language. Please review the supported language list before purchasing
Køb Tropico 4 DLC: Quick Dry Cement
Pakker, der indeholder dette spil
Køb Tropico 4 Collector's Bundle
Indeholder 12 emner: Tropico 4: Steam Special Edition, Tropico 4: Junta Military DLC, Tropico 4: Plantador DLC, Tropico 4: Modern Times, Tropico 4: Quick-dry Cement DLC, Tropico 4: Pirate Heaven DLC, Tropico 4: Megalopolis DLC, Tropico 4: Vigilante DLC, Tropico 4: The Academy, Tropico 4: Apocalypse, Tropico 4: Propaganda!, Tropico 4: Voodoo DLC
Om spillet
Build the ultimate Tropican metropolis! The new cement factory accelerates all construction on the island, the "Constructor" trait gives your construction workers a skill boost and the engineer helmet makes El Presidente look like a real pro. A Tropican flagpole, small park, flower beds, trees and the constructor statue are among the new decoration items. The "Largest City in the Caribbean" mission will see you build a huge, sprawling metropolis across an entire island while fighting all kinds of disasters.
Key Features:
Building: Cement Factory (accelerates all constructions on the island)
Character Trait: Constructor (free cement factory, construction workers gain skill faster)
Character Outfit / Vanity Item: Engineer helmet (for male and female avatars)
Mission theme: The largest city in the Caribbean - build a huge city across the whole island while fighting all kinds of disasters
Decorations: Tropican flagpole, Small park, Flower bed 2, Flowering tree 2, Constructor statue
There are no public reviews for this product yet
You can write your own review for this product to share your experience with the community. Use the area above the purchase buttons on this page to write your review.
Titel:
Tropico 4: Quick-dry Cement DLC
Genre:
Strategi
,
Simulation
Udvikler:
Haemimont Games
Udgiver:
Kalypso Media Digital
Udgivelsesdato:
7 Feb 2012
Sprog:
| | Grænseflade | Fuld lyd | Undertekster |
| --- | --- | --- | --- |
| Engelsk | | | |
| Fransk | | | |
| Tysk | | | |