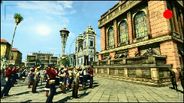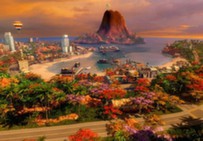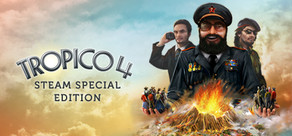 ...includes an exclusive island (Isla Nublar) and El Presidente avatar costume (Luchador) and 50 Steam achievements. El Presidente is back to rule it all!
Data di rilascio: 1 Set 2011
Guarda tutti e 2 i trailer
Pacchetti che includono questo gioco
Acquista Tropico 4 Collector's Bundle
Include 12 oggetti: Tropico 4: Steam Special Edition, Tropico 4: Junta Military DLC, Tropico 4: Plantador DLC, Tropico 4: Modern Times, Tropico 4: Quick-dry Cement DLC, Tropico 4: Pirate Heaven DLC, Tropico 4: Megalopolis DLC, Tropico 4: Vigilante DLC, Tropico 4: The Academy, Tropico 4: Apocalypse, Tropico 4: Propaganda!, Tropico 4: Voodoo DLC
Acquista Tropico Reloaded
Contenuti scaricabili per questo gioco
29 Aprile 2014
Hi guys!

As some of you may have noticed, there was a small update for Tropico 4 on the 28th of April 2014. Just to eradicate any confusion: This update was solely to address an issue with the korean version of the game and should not really bring any changes to other language versions. Sorry for not addressing this in time.

If you happen to have any problems or see irregularities after the patch, please contact us at support@kalypsomedia.com

Many greetings,
Chris

7 commenti
Ulteriori informazioni
26 Febbraio 2014
Do you want the chance to play the upcoming and highly anticipated fifth instalment of the Tropico series? Under the wise and benevolent guidance of El Presidente, players can help make Tropico 5 the best game possible by taking part in a Closed Beta test this March.

Register for the Tropico 5 Beta test now!
49 commenti
Ulteriori informazioni
Recensioni
"Welcome to Paradise."
– Gamesradar
"This sequel will build on everything people enjoyed in Haemimont's Tropico 3 and offer more of it."
– GameSpot
Edizione speciale
...includes an exclusive island (Isla Nublar) and El Presidente avatar costume (Luchador) and 50 Steam achievements. El Presidente is back to rule it all!
Informazioni sul gioco
The world is changing and Tropico is moving with the times - geographical powers rise and fall and the world market is dominated by new players with new demands and offers - and you, as El Presidente, face a whole new set of challenges. If you are to triumph over your naysayers you will need to gain as much support from your people as possible. Your decisions will shape the future of your nation, and more importantly, the size of your off-shore bank account.
Tropico 4 expands on the gameplay of the previous game with new political additions ∼ including more superpowers to negotiate with, along with the ability to elect ministers into power to help get your more controversial policies passed. But remember to keep your friends close and your enemies closer as everyone has an agenda! Your political mettle will be thoroughly tested, as new natural disasters will have the populace clamoring for you and your cabinet to help them recover from some of the worst Mother Nature can dish out.
Tropico 4 also brings a new level of social interaction with the addition of Facebook and Twitter integration. Post comments on Twitter direct from the game and have updates go out when you complete missions or unlock new achievements. You can even take screenshots of your burgeoning island and post your dream creation on your Tropico 4 Facebook page and compare your interactive Dictator Ranking on the online leaderboards.
Key Features:
New campaign consisting of 20 missions on 10 new maps.

20 new buildings including Stock Exchange, Shopping mall, Aqua Park and a Mausoleum to El Presidente.

Six new interactive disasters including volcanoes, droughts and tornadoes.

Council of Ministers – selected citizens to ministerial posts in the government to help push through your more controversial decisions.

National Agenda – receive objectives from Tropican factions, foreign geopolitical powers or opportunities relating to current island events such as ongoing disasters.

Facebook and Twitter integration.

Screenshot gallery – take screenshots of your tropical paradise and share on your Facebook page.

Trading system – import and export goods to/from other nations to boost your economy or production.
Requisiti di sistema
OS: Windows XP SP3 (32-bit), Vista / 7 (32 or 64-bit)

Processor: 2 GHz Dual Core CPU

Memory: 1 GB RAM

Graphics: Shader Model 3.0 (Geforce 6600 or higher, Radeon X1600-Series), 256 MB, DirectX 9.0c

DirectX®: 9.0c

Hard Drive: 5 GB free hard disk space

Sound: DirectX compatible

OS: Windows Vista / 7 (32 or 64-bit)

Processor: 2 GHz Quad Core CPU

Memory: 2 GB RAM

Graphics: Shader Model 3.0 (Geforce 8800 or higher, Radeon HD4000-Series or higher), 512 MB, DirectX 9.0c

DirectX®: 9.0c

Hard Drive: 5 GB free hard disk space

Sound: DirectX compatible

Recensioni utili dai clienti
Premi
GameSpot – Readers' Choice - Nominated as "Best of E3 – Strategy"



GamingExcellence – Editor's Choice – Winner of "Best of E3 – Strategy"



RTSGuru – Winner, "Best Sequel" at E3