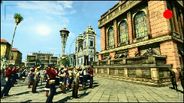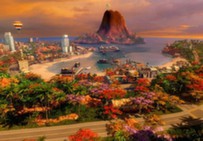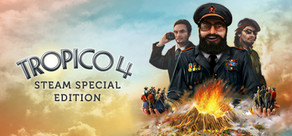 ...inkluderar ön (Isla Nublar), en El Presidente avatarkostym (Luchador) och 50 Steam-framsteg. El Presidente är tillbaka för att regera allt!
Utgivningsdatum: 1 Sep 2011
Titta på alla 2 trailers
This item does not have support for your local language. Please review the supported language list before purchasing
Paket som innehåller detta spel
Köp Tropico 4 Collector's Bundle
Innehåller 12 saker: Tropico 4: Steam Special Edition, Tropico 4: Junta Military DLC, Tropico 4: Plantador DLC, Tropico 4: Modern Times, Tropico 4: Quick-dry Cement DLC, Tropico 4: Pirate Heaven DLC, Tropico 4: Megalopolis DLC, Tropico 4: Vigilante DLC, Tropico 4: The Academy, Tropico 4: Apocalypse, Tropico 4: Propaganda!, Tropico 4: Voodoo DLC
Nedladdningsbart innehåll för detta spelet
29 April 2014
Hi guys!

As some of you may have noticed, there was a small update for Tropico 4 on the 28th of April 2014. Just to eradicate any confusion: This update was solely to address an issue with the korean version of the game and should not really bring any changes to other language versions. Sorry for not addressing this in time.

If you happen to have any problems or see irregularities after the patch, please contact us at support@kalypsomedia.com

Many greetings,
Chris

8 kommentarer
Läs mer
26 Februari 2014
Do you want the chance to play the upcoming and highly anticipated fifth instalment of the Tropico series? Under the wise and benevolent guidance of El Presidente, players can help make Tropico 5 the best game possible by taking part in a Closed Beta test this March.

Register for the Tropico 5 Beta test now!
49 kommentarer
Läs mer
Recensioner
"Welcome to Paradise."
– Gamesradar
"This sequel will build on everything people enjoyed in Haemimont's Tropico 3 and offer more of it."
– GameSpot
Specialutgåva
...inkluderar ön (Isla Nublar), en El Presidente avatarkostym (Luchador) och 50 Steam-framsteg. El Presidente är tillbaka för att regera allt!
Om spelet
Världen förändras och Tropico hänger med i tiden - geografiska härskare stiger och faller och världen domineras av nya spelare med nya krav och erbjudanden - och du, som El Presidente, står inför en helt ny uppsättning av utmaningar. Om du ska segra över dina nejsägare behöver du få så mycket stöd från människorna som möjligt. Dina beslut kommer att forma framtiden för din nation, och ännu viktigare, storleken på ditt egna bankkonto.
Tropico 4 bygger vidare på spelupplägget från förra spelet med nya politiska tillägg ~ inklusive fler supermakter att förhandla med, tillsammans med förmågan att utse ministrar till makten för att få mer kontroversiell politik. Men kom ihåg att hålla dina vänner nära och dina fiender närmare eftersom alla har en agenda! Din politiska duglighet kommer att bli grundligt testad, eftersom nya naturkatastrofer kommer att ha folket ropade efter dig och din regering för att hjälpa dem att återhämta sig från något av de värsta Moder Natur kan ge.
Tropico 4 ger också en ny nivå av social interaktion med tillägg av Facebook och Twitter integrerat. Skriv kommentarer på Twitter direkt från spelet och låt uppdateringar skickas ut när du slutför uppdrag eller låser upp nya prestationer. Du kan även ta skärmdumpar av din växande ö och lägg upp din drömskapelse på din Tropico 4 Facebook-sida och jämföra din interaktiva Diktator Rankning på online-topplistorna.
Huvudfunktioner:
En ny kampanj bestående av 20 uppdrag på 10 nya kartor.

20 nya byggnader inklusive börsen, köpcentrumet, vattenparken och ett mausoleum till El Presidente.

Sex nya interaktiva katastrofer, inklusive vulkaner, torka och tornados.

Ministerrådet - välj medborgare att administrera tjänster i regeringen för att driva igenom flera kontroversiella beslut.

Nationella Agendan - få information från de Tropicanska grupperna, utländska geopolitiska befogenheterna eller möjligheter kopplade till den aktuella öns händelser såsom pågående katastrofer.

Facebook och Twitter integration.

Skärmdumpsgalleri - ta skärmdumpar av ditt tropiska paradis och dela det på din Facebook-sida.

Handelssystemet - importera och exportera varor till/från andra nationer för att öka din ekonomi eller produktion.
Systemkrav
Operativsystem: Windows XP SP3 (32-bit), Vista / 7 (32 eller 64-bit)

Processor: 2 GHz Dual Core-CPU

Minne: 1 GB RAM

Grafik: Shader Model 3.0 (Geforce 6600 eller högre, Radeon X1600-Series), 256 MB, DirectX 9.0c

DirectX®: 9.0c

Hårddisk: 5 GB ledigt hårddiskutrymme

Ljud: DirectX-kompatibelt
Operativsystem: Windows Vista / 7 (32 eller 64-bit)

Processor: 2 GHz Quad Core-CPU

Minne: 2 GB RAM

Grafik: Shader Model 3.0 (Geforce 8800 eller högre, Radeon HD4000-Series eller högre), 512 MB, DirectX 9.0c

DirectX®: 9.0c

Hårddisk: 5 GB ledigt hårddiskutrymme

Ljud: DirectX-kompatibelt
Hjälpsamma kundrecensioner
Priser
GameSpot – Läsarnas val - Nominerad som "Bästa under E3 - Strategi"



GamingExcellence – Redaktörens val – Vinnare av "Bästa under E3 - Strategi"



RTSGuru – Vinnare, "Bästa uppföljare" vid E3