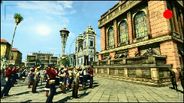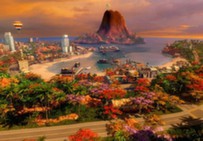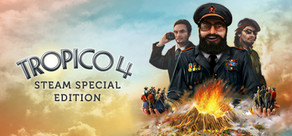 ...egy exkluzív szigetet (Isla Nublar) és El Presidente avatár öltözéket (Luchador) és 50 Steam teljesítményt tartalmaz. El Presidente visszatért a kormányzásához!
Megjelenés dátuma: 1 Szept 2011
Mind a(z) 2 előzetes megnézése
This item does not have support for your local language. Please review the supported language list before purchasing
Ezt a játékot tartalmazó csomagok
Tropico 4 Collector's Bundle vásárlása
12 elemet tartalmaz: Tropico 4: Steam Special Edition, Tropico 4: Junta Military DLC, Tropico 4: Plantador DLC, Tropico 4: Modern Times, Tropico 4: Quick-dry Cement DLC, Tropico 4: Pirate Heaven DLC, Tropico 4: Megalopolis DLC, Tropico 4: Vigilante DLC, Tropico 4: The Academy, Tropico 4: Apocalypse, Tropico 4: Propaganda!, Tropico 4: Voodoo DLC
Tropico Reloaded vásárlása
Letölthető tartalom a játékhoz
29 április 2014
Hi guys!

As some of you may have noticed, there was a small update for Tropico 4 on the 28th of April 2014. Just to eradicate any confusion: This update was solely to address an issue with the korean version of the game and should not really bring any changes to other language versions. Sorry for not addressing this in time.

If you happen to have any problems or see irregularities after the patch, please contact us at support@kalypsomedia.com

Many greetings,
Chris

8 megjegyzés
Tovább
26 február 2014
Do you want the chance to play the upcoming and highly anticipated fifth instalment of the Tropico series? Under the wise and benevolent guidance of El Presidente, players can help make Tropico 5 the best game possible by taking part in a Closed Beta test this March.

Register for the Tropico 5 Beta test now!
49 megjegyzés
Tovább
Értékelések
"Üdvözlünk a Paradicsomban."
– Gamesradar
"Ez a folytatás mindarra alapoz, amit az emberek szerettek a Haemimont Tropico 3-jában, és többet kínál belőle."
– GameSpot
Különleges kiadás
...egy exkluzív szigetet (Isla Nublar) és El Presidente avatár öltözéket (Luchador) és 50 Steam teljesítményt tartalmaz. El Presidente visszatért a kormányzásához!
A játékról:
A világ változik és Tropico halad a korral - földrajzi hatalmak emelkednek fel és buknak el, és a világpiacot új játékosok uralják, új kereslettel és kínálattal - és te, mint El Presidente egy csomó új kihívással nézel szembe. Ha le akarod győzni ellenlábasaidat, annyi támogatást kell szerezned népedtől, amennyit csak lehet. A te döntéseid alakítják nemzeted jövőjét, és ami még fontosabb, az off-shore bankszámlád méretét.
A Tropico 4 új politikai kiegészítésekkel bővíti az előző rész játékmenetét, köztük új szuperhatalmakkal, melyekkel tárgyalhatsz, és miniszterek hatalomba segítésével, hogy segítsenek vitatottabb politikai döntéseid elfogadtatásában. De ne feledd, tartsd közel a barátaidat, az ellenségeidet pedig még közelebb, mert mindenkinek van terve! Politikai képességeid alaposan megmérettetnek, mikor az új természeti katasztrófák miatt zúgolódó lakosság tőled és kabinetedtől követeli, hogy segítsetek nekik talpra állni mindabból, amit az Anyatermészet csak rájuk tud zúdítani.
A Tropico 4 új szintre emeli a közösségi együttműködést is a Facebook- és Twitter-integrációval. Írj hozzászólásokat a Twitterre egyenesen a játékból, és küldj frissítéseket, mikor teljesítesz egy küldetést vagy elérsz egy új teljesítményt. Még képernyőmentést is készíthetsz virágzó szigetedről, közzéteheted az álmod megvalósítását a Tropico 4 Facebook oldaladon, és összehasonlíthatod interaktív Diktátor Értékelésedet az online ranglistákkal.
Fő jellemzők:
10 új pályán zajló 20 küldetésből álló új kampány.

20 új épület, köztük Tőzsde, Bevásárlóközpont, Aquapark és az El Presidente Mauzóleum.

Hat új interaktív katasztrófa, köztük vulkán, aszály és tornádó.

Minisztertanács; nevezz ki lakosokat a kormány miniszteri tisztségeire, hogy segítsenek elfogadtatni vitatottabb döntéseidet.

Nemzeti Program; célkitűzéseket kapsz a tropicoi frakcióktól, külföldi geopolitikai hatalmaktól, vagy lehetőségeket a szigeteden jelenleg zajló események alapján, mint például egy zajló katasztrófa.

Facebook- és Twitter-integráció.

Képernyőmentés-galéria; készíts képernyőmentéseket trópusi paradicsomodról, és oszd meg őket Facebook oldaladon.

Kereskedelmi rendszer; importálj és exportálj árukat más nemzetektől/nemzetekhez gazdaságod vagy termelésed fellendítéséhez.
Rendszerkövetelmények
Operációs rendszer: Windows XP SP3 (32-bit), Vista / 7 (32 vagy 64-bit)

Processzor: 2 GHz Dual Core CPU

Memória: 1 GB RAM

Grafika: Shader Model 3.0 (Geforce 6600 vagy magasabb, Radeon X1600 sorozat), 256 MB, DirectX 9.0c

DirectX®: 9.0c

Merevlemez: 5 GB szabad merevlemez-terület

Hang: DirectX kompatibilis
Operációs rendszer: Windows Vista / 7 (32 vagy 64-bit)

Processzor: 2 GHz Quad Core CPU

Memória: 2 GB RAM

Grafika: Shader Model 3.0 (Geforce 8800 vagy magasabb, Radeon HD4000 sorozat vagy magasabb), 512 MB, DirectX 9.0c

DirectX®: 9.0c

Merevlemez: 5 GB szabad merevlemez-terület

Hang: DirectX kompatibilis
Hasznos vásárlói értékelések
Díjak
GameSpot – olvasók választása - jelölve az "E3 legjobb stratégiája" díjra



GamingExcellence – szerkesztők választása – az "E3 legjobb stratégiája" díj nyertese



RTSGuru – a "Legjobb folytatás" díj nyertese az E3-on