Dota 2
Dota is a competitive game of action and strategy, played both professionally and casually by millions of passionate fans worldwide. Players pick from a pool of over a hundred heroes, forming two teams of five players.
View all 16 screenshots
Watch all 3 trailers
Early Access Game
Get instant access and start playing; get involved with this game as it develops.
Learn more about Early Access.
What the developers say:
"At this point we don't really think of Dota 2 as a beta, but we also aren't ready for everyone to show up and start playing just yet. We are constantly updating the game with new heroes, bug fixes, and new features. We've still got work to do before we can support the number of players who've shown interest in Dota 2. Right now we're working on expanding our server infrastructure, which is the primary bottleneck.

Purchasing an Early Access pass will allow you join the Dota 2 community and help build the game. The more people we have generating ideas and providing feedback, the better Dota 2 will become. In addition, every single feature is avaliable to you and none of the items purchased or progress made will be lost or reset once the game is available for everyone."
Read more
Buy Dota 2: Early Access
Packages that include this game
Buy Valve Complete Pack
Includes 25 items: Counter-Strike, Team Fortress Classic, Day of Defeat, Deathmatch Classic, Half-Life: Opposing Force, Ricochet, Half-Life, Counter-Strike: Condition Zero, Half-Life: Blue Shift, Half-Life 2, Counter-Strike: Source, Half-Life: Source, Day of Defeat: Source, Half-Life 2: Deathmatch, Half-Life 2: Lost Coast, Half-Life Deathmatch: Source, Half-Life 2: Episode One, Portal, Half-Life 2: Episode Two, Team Fortress 2, Left 4 Dead, Left 4 Dead 2, Dota 2, Portal 2, Counter-Strike: Global Offensive
May 14th, 2013
After some thoughtful games of Dota, we came up with four new stretch goals that we'll be updating the Compendium with tomorrow. The initial stretch goals for the Compendium were at $1,700,000, $1,850,000 and $2,600,000 granting a new Battle Booster, improved Courier upgrades, and an Immortal item.





The new goals are:

$2,000,000 - A custom HUD skin for all Compendium owners

$2,200,000 - A Taunt item with a brand new animation for all Compendium owners

$2,400,000 - Vote on participants in an 8 player Solo Championship (1 vs 1) at The International

$3,200,000 - Choose the next hero we release

Don't miss Day 3 of Western Qualifiers starting tomorrow at 14:30 CEST. Tomorrow's games will feature Evil Geniuses, mousesports, ICCup and Qpad Red Pandas. You can watch the game in the client or at The GDStudio.
186 comments
Read more
May 13th, 2013
The community has once again surprised and caught us off guard by reaching the second Stretch Goal in The International Interactive Compendium already, adding over $250,000USD to the International Prize Pool. Our original plan was for the International 2013 Courier to be able to ride a small set of mounts, and now the art team knows the community demands more. Here some concepts for some of the new mounts they now have on the to-do list: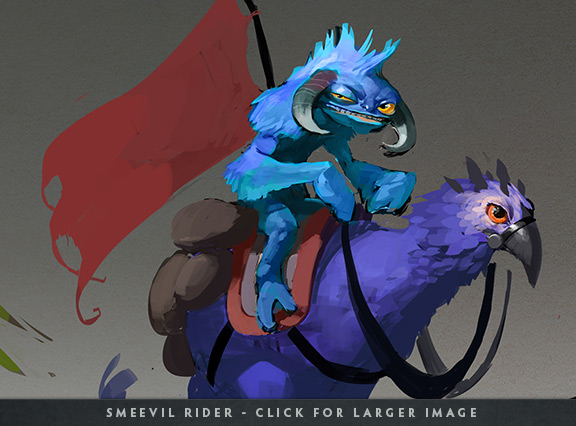 Given how much faster the community is reaching the stretch goals we set up, we've decided to add some more, based on the many conversations we've seen the community having around the compendium. In particular, the big gap between the 2nd and 3rd is something we're addressing. More on that tomorrow.

Don't forget that the Western Qualifiers for the International 2013 started this morning over at TheGDStudio. Good luck to all the teams involved!
86 comments
Read more
Dota 2: Early Access Pack
Dota 2 is a Free to Play game, that is not yet fully released. The game is constantly being updated with new heroes and new features.
The Early Access Holiday Pack is your opportunity to get in the game now. Your purchase includes an Early Access Pass to Dota 2 in addition to the following in-game items!
Mighty Boar Courier
Juggernaut - Traveler on the High Plains Set:
Stoic Mask of the High Plains
Wolf Cape of the High Plains
Aspect Wraps of the High Plains
Long-Fang the Grey Blade
Sven - Swordmaster of the Vigil Set:
Tayrnhelm of the Swordmaster
Girth of the Swordmaster
Fluted Guard of the Swordmaster
Grip of the Swordmaster
Witchdoctor - "Staff of the Old Doctor" & "Wooden Fetish Mask"
About the Game
Dota is a competitive game of action and strategy, played both professionally and casually by millions of passionate fans worldwide. Players pick from a pool of over a hundred heroes, forming two teams of five players. Radiant heroes then battle their Dire counterparts to control a gorgeous fantasy landscape, waging campaigns of cunning, stealth, and outright warfare.
Irresistably colorful on the surface, Dota is a game of infinite depth and complexity. Every hero has an array of skills and abilities that combine with the skills of their allies in unexpected ways, to ensure that no game is ever remotely alike. This is one of the reasons that the Dota phenomenon has continued to grow. Originating as a fan-made Warcraft 3 modification, Dota was an instant underground hit. After coming to Valve, the original community developers have bridged the gap to a more inclusive audience, so that the rest of the world can experience the same core gameplay, but with the level of polish that only Valve can provide.
Get a taste of the game that has enthralled millions. It just might be your next addiction.
Community
350,648 players recommend this game to their friends
Title:
Dota 2
Genre:
Action
,
Strategy
,
Early Access
Developer:
Valve
Publisher:
Valve
Languages:
Bulgarian, Czech, Danish, Dutch, English
*
, Finnish, French, German, Greek, Hungarian, Italian, Japanese, Korean, Norwegian, Polish, Portuguese, Portuguese-Brazil, Romanian, Russian, Simplified Chinese, Spanish, Swedish, Thai, Traditional Chinese, Turkish
*
languages with full audio support
Multi-player
Co-op
Steam Trading Cards
Awards
Winner of The IGN People's Choice Award at gamescom 2011.