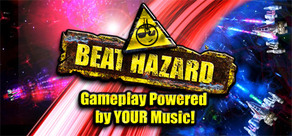 Play online Head to Head or Co-op. More game modes, enemies and bosses. Unlock and upgrade perks and customize your set-up to suit your play style.
Çıkış Tarihi: 15 Nisan 2010
Bu oyunu içeren paketler
Beat Hazard Complete Satın Alın
3 ürün içerir: Beat Hazard, Beat Hazard – iTunes & m4a file support, Beat Hazard Ultra
Bu Oyun İçin İndirilebilir İçerikler
17 Mart 2014
... has been confirmed for Thursday 17th April!
$4.99 (minus a 10% discount for the first week)

Can't wait to see all the ships you guys will come up with! ːbhː
53 yorum
Daha fazlasını oku
14 Mart 2014
Hi all,

I've just released a major update. Here are the main changes:

- Added Online play to the Linux version
- Fixed LastFM Scrobbling (You may need to re-login for this to start working)
- Fixed all the radio stations
- Added 'Ship Hangar' on the main menu. Change your ship type here
- Added separate leader boards for Standard, Gold, Mini Gold & Dragon ships. (Access these from the Ship Hangar)
- Added 'change ship' option to the online lobby screen

Let me know if there's any problems.
26 yorum
Daha fazlasını oku
Oyun Açıklaması
Welcome to a new experience in gameplay mechanics: Beat Hazard
Gameplay Powered by YOUR Music!
Experience your music collection like never before with this intense music driven arcade shooter. Each of your songs will have its own unique ebb and flow based on the music.
Power up your spaceship and watch as the music boosts your firepower. Unleash hell on the enemy ships when you max out with weapon pickups!
Beat Hazard seamlessly mixes the love of gaming and music. Together they become greater than the sum of their parts.
Unique music driven gameplay

Gameplay possibilities as vast as your music collection

Can you last a whole album in Survival Mode?

Go Head to Head in local 2 player mode

Or play local 2 player Co-op

25 Steam achievements

Compete against friends on Steam leader boards

Get real time updates via the in game News System

Take on huge boss ships

Power up and unleash the deadly Beat Hazard weapon

Rank up to an Elite rated pilot and beyond (Can you survive Suicidal mode?)

Includes a kicking rock album to get you started

File types supported: mp3/wav/aiff/ogg/mwa/flac

iTunes, aac, mp4 and m4a support via a download for a small fee (to cover patented decoder licensing costs)

LastFM Scrobble support

Now also support Internet Radio in all modes, including online

PC Sistem Gereksinimleri
OS: Windows XP/Vista/Win 7

Processor: 2.0GHz processor

Memory: 512+MB of RAM

Hard Drive: 40+MB of free hard drive space

Graphics: 256MB of video memory

Sound: DirectX-compatible sound

DirectX®: 9 or later

Mac Sistem Gereksinimleri
İşletim Sistemi: Snow Leopard 10.6.3 veya sonrası

İşlemci: Intel

Bellek: 512 MB RAM

Sabit Disk Alanı: 250 MB sabit disk alanı
Helpful customer reviews