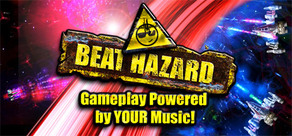 Play online Head to Head or Co-op. More game modes, enemies and bosses. Unlock and upgrade perks and customize your set-up to suit your play style.
Utgivelsesdato: 15 Apr 2010
Kjøp Beat Hazard
DAGLIG TILBUD! Tilbudet er over om
Pakker som inkluderer dette spillet
Kjøp Beat Hazard Mega Bundle
Inkluderer 4 objekter: Beat Hazard, Beat Hazard – iTunes & m4a file support, Beat Hazard Ultra, Beat Hazard - Shadow Operations Unit
DAGLIG TILBUD! Tilbudet er over om
Nedlastbart innhold for dette spillet
17 April 2014
The new Shadow Operations DLC has been released:

http://store.steampowered.com/app/272680/

- 9 Brand new ships, each with different handling, firing patterns and abilities
- Steam Workshop support with easy to use in-game editor
- Earn mission stars by completing 'Shadow Missions' assigned to each ship
- Prove your worth, rank up to 'Shadow Force Elite'
- Each ship has a separate leader board; Show your skill and compete for the top spot

Read the full manual and feature list here:
http://steamcommunity.com/sharedfiles/filedetails/?id=234968549

I'd like to thank all the Beta testers that helped out.
And I'm really looking forward to seeing the ships you create!

Have fun!
Cheers,
Steve
11 kommentarer
Les mer
17 Mars 2014
... has been confirmed for Thursday 17th April!
$4.99 (minus a 10% discount for the first week)

Can't wait to see all the ships you guys will come up with! ːbhː
64 kommentarer
Les mer
Nylig oppdatert

Om spillet
Welcome to a new experience in gameplay mechanics: Beat Hazard
Gameplay Powered by YOUR Music!
Experience your music collection like never before with this intense music driven arcade shooter. Each of your songs will have its own unique ebb and flow based on the music.
Power up your spaceship and watch as the music boosts your firepower. Unleash hell on the enemy ships when you max out with weapon pickups!
Beat Hazard seamlessly mixes the love of gaming and music. Together they become greater than the sum of their parts.
Unique music driven gameplay

Gameplay possibilities as vast as your music collection

Can you last a whole album in Survival Mode?

Go Head to Head in local 2 player mode

Or play local 2 player Co-op

25 Steam achievements

Compete against friends on Steam leader boards

Get real time updates via the in game News System

Take on huge boss ships

Power up and unleash the deadly Beat Hazard weapon

Rank up to an Elite rated pilot and beyond (Can you survive Suicidal mode?)

Includes a kicking rock album to get you started

File types supported: mp3/wav/aiff/ogg/mwa/flac

iTunes, aac, mp4 and m4a support via a download for a small fee (to cover patented decoder licensing costs)

LastFM Scrobble support

Now also support Internet Radio in all modes, including online

Systemkrav (PC)
OS: Windows XP/Vista/Win 7

Processor: 2.0GHz processor

Memory: 512+MB of RAM

Hard Drive: 40+MB of free hard drive space

Graphics: 256MB of video memory

Sound: DirectX-compatible sound

DirectX®: 9 or later

Systemkrav (MAC)
OS: OS X Snow Leopard 10.6.3, or later.

Processor: Intel

Memory: 512 MB RAM

Hard Disk Space: 250mb HD space

Systemkrav (Linux)
OS: Ubuntu Linux 12.04 LTS or equivalent

Processor: x86 1.5 GHz

Memory: 512 MB RAM

Hard Disk Space: 250mb HD space
Hjelpsomme kundeanmeldelser