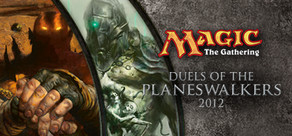 플레이하려면 Steam 버전인 Magic: The Gathering - Duels of the Planeswalkers 2012 기본 게임이 필요합니다.

출시 날짜: 2011년 11월 16일
Magic 2012 Deck Pack 1 구매
이 게임이 포함된 패키지
게임 정보
As one of the most powerful beings in the Multiverse, you're always seeking new magic to expand your mastery and defeat your foes. This Duels of the Planeswalkers 2012 deck pack includes two brand-new decks for Campaign and Multiplayer play. "March to War" is an aggressive red and white deck featuring an army of brutally efficient Soldiers, with enough removal spells to keep the pressure on. "Ghoulkeeper" is a vile black deck featuring an unrelenting Zombie legion. Unleash wave after wave of undead terror until your opponent is overwhelmed by your might.
시스템 요구 사항
OS: Windows 7/Vista/XP
Processor: 2GHz CPU (Pentium 4 or equivalent)
Memory: 1GB RAM (2GB for Vista)
DirectX®: DirectX 9.0c or later
Hard Drive: 700MB
Sound: DirectX 9.0c compatible sound card
Video: 256MB VRAM GPU capable of Pixel Shader 3 or better
Additional: Co-op gameplay is online only.
Wizards of the Coast, Magic: The Gathering, Duels of the Planeswalkers, and their respective logos are trademarks of Wizards of the Coast LLC in the U.S.A. and other countries. Other trademarks are property of their respective owners. ©2011 Wizards of the Coast LLC.
유용한 고객 평가
Instead of earning your decks while in game you can buy them at a small price. With this downloadable content you can unlock this deck and use it at your discretion forever. This is a great thing to do but you might be wasting your money if you already know that you can unlock the deck already in game while just playing. This purchase just makes customizing decks easier and more convenient since you'll be unlocking the deck right away. I do suggest buying this little shortcut if you are too lazy to earn it while in game or think you can't earn it while in game. If you plan to play online then its a great idea to buy this downloadable content to make sure your not at a disadvantage while playing your opponents. To unlock decks in game you have to beat certain players in the campaign which at times can be a challenge but very rewarding since you unlock decks. This DLC deck unlock is there if you need it and if you know you don't then don't buy it and earn all the decks while in game.
제목:
Magic 2012 Deck Pack 1
장르:
전략
개발자:
Stainless Games Ltd
배급사:
Wizards of the Coast LLC
출시 날짜:
2011년 11월 16일
언어:
| | 인터페이스 | 음성 지원 | 자막 |
| --- | --- | --- | --- |
| 영어 | | | |
| 프랑스어 | | | |
| 독일어 | | | |
| 이탈리아어 | | | |
| 스페인어 | | | |