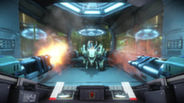 An immersive, multiplayer shooter that pits aliens against humans in a strategic and action-packed struggle for survival!
Release Date: Oct 30, 2012
Watch all 4 trailers
Buy Natural Selection 2 - Deluxe Edition
Buy Natural Selection 2 - 4-pack
Includes four copies of Natural Selection 2 - a copy for yourself and three copies to send to your friends!
Buy Natural Selection 2 Deluxe Edition Upgrade
Upgrade your Standard Edition to the Deluxe Edition!
Downloadable Content For This Game
June 5th, 2014


Natural Selection 2 Build 266 is now live on Steam! Today's release is the culmination of weeks of hard work by the new NS2 CDT – Community Development Team. A patch that has been developed entirely by the NS2 community – we are very proud and humbled to release it to you all. While it might be short in scope and stature, we hope you'll find that your experience is now a little more refined.

This patch was created by the community, for the community and with Unknown World's blessing. They have taken a gamble on us, but our shared passion for the Natural Selection franchise is what got us here today. Things like bug fixes and popular features have gone into this patch, but we have many more plans for the future!

You can also join us LIVE on http://twitch.tv/naturalselection2 on Saturday, June 7th at 12PDT, 3EDT or 21CEST for another round of CLOGCAST Q&A. We would love to hear what you think of 266 and will also talk about potential things to come in 267.

<iframe width="560" height="315" src="//www.youtube.com/embed/Bvkp2ocX0NQ" frameborder="0" allowfullscreen></iframe>

Fixes
Fixed commander selection bug that made buildings selected with hotgroups not respond properly sometimes
Fixed scoreboard not showing Spectators to players on teams (Thanks Wyzcrack)
Fixed bug where damage numbers wouldn't show the damage done in the killing blow
Fixed lights staying red if the power node is under attack (Thanks remiD)
Display correct team color/background for Alltalk voice chat (Thanks remi.D)
Fixed Gorge viewmodel idle animation not looping correctly on the top of the mouth
Fixed not being able to drop sentries before the first sentry battery is fully built
Fixed Bilebomb bouncing on top of the owner if it catches it and going through walls at the right angle
Fixed Exo eject sound playing before the eject animation
Fixed infestation blobs spawning on nocling geometry
Fixed players getting stuck on Infantry Portals if another player is afk on it
"nav_debug", collision, and physics console commands now require cheats to be on
Fixed unknown in server browser bug (thanks Person8880!)
Fixed Gorge spit not doing damage up close
Builder will now auto-generate overviews again now that all tools do not crash on exit
Fixed all tools crashing on exit
Fixed hitboxes on problematic rock props
Fixed NS2 crashing on startup if the client is subscribed to a mod that is deleted on the workshop
Fixed biodome_glass_01 file missing error
Fixed Kodiak and Summit loading screens
Fixed biodome_container_01_top having more than 255 polygons on the collision model

Features
Connections between Phase Gates or Gorge Tunnels are now colored depending on the team, If there's more than 2 PGs it will switch to lines with animated arrows
Added player upgrades to the Insight player frames
Added Lerk deaths to Insight notifications
Colored ammo bars for Marine Commanders (uses same colors as Insight spectator system)
Commanders can see building ranges before dropping them
Mods list now automatically sorted by Active > Subscribed > Alphabetically. You can also sort by column now
"tunnel_allowed" material, which allows tunnel placement outside of nav mesh. Usage: paint material onto a face and put that face in CollisionGeometry

Biodome
Fixed leafs clipping through glass
Fixed collision in Lobby and Canopy around props
Added missing trim around glass in Reception
Fixed sandstorm cinematic not playing
Fixed glass boxes being backwards in Analysis
BUILD 266 NOW LIVE ON STEAM


Fixed temp greybox for missing prop
Fixed holes in Bamboo Pass
Fixed floating computer in canopy
Fixed flickering occlusion face issue in bamboo pass
Fixed some texture issues in ready room

Refinery
Fixed a hole in Smelting
Fixed floating Resource Node in Smelting
Tunnels can now be placed near where the Smelting buckets leave the room in smelting near the door that leads to routing and the left ladder near the fire pit
Removed collision on the moving Smelting buckets
Detail change in Transit
Added pre-defined Infantry Portal spawn point in Flow to prevent it from spawning on the other side of the wall

Descent
Added tunnel_allowed geometry near pipes in Fabrication, the top level of Plaza, and near the desk in Plaza to allow for tunnel placement off navmesh
Fixed a lot of pathing
Fixed the pathing_settings from trying to use 48 tile size instead of the max of 36

Docking
Fixed reflections
Fixed a greybox texture in Terminal
Tunnels can now be placed on the lower level of Generator
Fixed a glass prop not being hidden from commander invisible

Once again, thanks to everyone in our community for their continued support of NS2! Please keep posting on the forums and giving us feedback. You can stay up to date on our progress by following us on Twitter @NS2CDT or by viewing our Public Trello. Cheers!
40 comments
Read more
May 1st, 2014


Today, a new map: Kodiak, created by community mapper and modder Loki, was released officially as part of Natural Selection 2! This day is the culmination of months of hard work by Loki to create a map that stands proudly alongside the previous eight official maps.

<iframe width="600" height="338" src="//www.youtube.com/embed/SbmH7mThwCU" frameborder="0" allowfullscreen></iframe>

Kodiak is now available for everyone to play, and will automatically download from Steam when you next update Natural Selection 2 via the Steam client. All official servers will be running Kodiak only for the next few days.




Lush vegetation, free flowing rivers, and vistas of an asteroid field characterise Kodiak. Three enormous Biospheres run down the centre, forming the path for a river and dense vegetation. These areas create gameplay the likes of which Natural Selection 2 has never seen, with aliens and marines alike playing hide and seek among the foliage.




There is much more to this story than just a new map. Today, the Kodiak Pack was released on Steam! The Kodiak Pack includes new camouflage armour for Frontiersmen, Exosuits, and Skulks, and a new Kodiak Shoulder Pad. Naturally, when fighting in the forest, you will want to blend in, and you can also wear these new armours on any map!

<iframe src="http://store.steampowered.com/widget/296360/42746/" frameborder="0" width="600" height="190"></iframe>

Kodiak was created by a community mapper: Loki, and for every copy of the Kodiak Pack sold on Steam, Loki will get 50% of the earnings. This means that every time someone buys the Kodiak Pack, they are not just getting sweet new NS2 gear and supporting Unknown Worlds, they are also directly supporting the Natural Selection 2 modding community.




All of the toys included in the Kodiak Pack can be accessed via a new in-game customisation system, accessed through the main menu while in a server. Special Edition, Deluxe Edition, Reinforcement Program, World Championship, and of course Kodiak armour, lifeforms, and badges may be accessed in this menu, and previewed live.




This new customisation system is a hint at what is going on under the hood in the Kodiak Update: Lots. Loki was not the only community member to work on this update, countless others have been working directly on Kodiak to take it beyond the map, and into the core game.




Rantology took charge of the art direction of Kodiak, designing and creating the new items available in the Kodiak Pack, the customisation sytem, and other elements of the update.

SamusDroid was the technical leader of the project, coding in all the new features and fixes. SamusDroid has spent untold hours on engineering the Kodiak Update, and the care and attention he has shown towards Natural Selection 2 and the needs of its players is truly wonderful.

The Unknown Worlds playtest group, now number over sixty dedicated individuals, pulled out all the stops to test, test, test and test the Kodiak Update for hours on end. They also served as Academy Award winning actors in the Kodiak Trailer!

This is a very exciting Natural Selection 2 update. This game is now over one and a half years old on Steam, and by any reasonable standard, that is a long time to go while still receiving active development attention. The Kodiak Update is not just fun, it is also a test: Could this new development method, combining the talents of Unknown Worlds and devoted Natural Selection 2 players, yield even more updates in future? See the full changelog below:

Fixes
Fixed massive lag caused when using webadmin on a server
Fixed force even teams causing script errors, server crashes, and ghost player models
Force even teams is now pre-game only and has a new console command sv_forceeventeams
Fixed Insight Spectator System not supporting spaces in team names. Use team1 and team2 commands individually not the teams command
Fixed Alien structures not pulsing red when taking damage from being uncysted
Fixed Hallucinations all being normal variant model
Fixed shoulder patches and visors not fading with a dead Marine
Fixed failing to connect to a server first try with extra precaching on
Fixed unbuilt Command Stations showing "locked" screen
Fixed percentage sign in server name breaking the scoreboard
Fixed entering in blank values in option menu numerical input causing script errors
Fixed Skulk growl sound always playing when holding the walk key
Fixed getting stomped by Onos with welder causing running animation
Fixed Fade and Onos view models being outlined
Fixed missing first person view model for Female Nerve Gas Grenades
Fixed Marines that get killed by Stomp play the "stand up" animation before turning into a ragdoll
Fixed flinch animation on Sentry Batteries not looping
Fixed outdated Docking and Tram loading screens
Fixed evolve last upgrade key working with console open
Changed default Marine skin option name from "Green" to "Normal" for consistency with other options

Features
Added new map Kodiak, by Loki
Added Kodiak Update DLC
Added Kodiak camouflage marines, skulks, and exosuit
Added Kodiak shoulder pad
Added an in-game player customization menu (open menu while in game to see)
Added player names to minimap. Added GUI option, and console command minimapnames to toggle the names
Added Biodome concept art to loading screens
Added mod download percentage to loading screen
Parasited Marine name tags and minimap blips now appear yellow
Added console command filmsmoothing <number> will now adjust the mouse movement scalar while in film mode
Improved chat wrapping method to work better over more resolutions
Added port field to create listen server page
Lowered minimum mouse sensitivity to 0.01

SDK
Added support for UTF-8 in font rendering
Removed OpenGL support for Windows
Implemented texture atlasing for Rifle and Exosuit textures (Click here for more information on this change)
Fixed Builder not copying over .entry files
Added support for non-clingable geometry to stop Skulks/Lerks/Mines/Clogs clinging to invisible geometry. Use surface = "nocling" in material file
Added support for toggling highlight of models in Alien Vision through code
Added support for animated models using AnimatedModel.lua

Veil
Fixed Commander building exploits in Sub Sector and The Dome
Fixed exploit that allowed Lerks to get out of the map
Fixed invisible wall in C12 pillar

Biodome
Removed Agri Labs vent from Commander view
Fixed stuck spot in Condensors vent

Docking
Fixed mismatching glass in Landing Pad
Fixed Gorge Bile exploit spots in Landing Pad (Once and for all)
Added nocling geometry in Courtyard and Landing Pad
Fixed hole in Departures
Fixed pathing in Pressure Control
Fixed pipes around Stability Monitoring

Mineshaft
Fixed invalid triangles causing pathing issues

Summit
Added nocling geometry in Crevice
34 comments
Read more
Reviews
"NS2 is a genius mash of Counter Strike and Starcraft"
– Kotaku
"This is getting close to my idea of the ultimate game"
– Machinima
Digital Deluxe Edition
The Digital Deluxe Edition includes:

Official Soundtrack
Almost 1 hour of tribal, industrial music composed by David John and Simon Chylinski. This includes all the music from our trailers and videos.

Digital Art Book
40+ pages of concept art by Cory Strader, including environments, creatures, weapons and more. Cory discusses the process behind designing the unique technological/animal look in the game.

Exclusive Wallpapers and Avatars
Community artist Rantology created some of the best and most unique views of creatures in the NS universe. Custom Steam avatars complete the package.

Exclusive in-game marine model
A new marine model with custom visor and equipment makes you look distinctive in-game. Existing owners of the original "Black Armor" marine will be able to choose between any models they own.


About the Game
Natural Selection 2 is an immersive, multiplayer shooter that pits aliens against humans in a strategic and action-packed struggle for survival. It seamlessly combines shooter and RTS/strategy gameplay.
Key Features:
Two Unique Sides:

Whether you play as one of the elite marine Frontiersmen or the vicious alien Kharaa, you must use unique strategies and your abilities to win. Marines form persistent squads to find and destroy alien hives. Aliens can choose a wall-running Skulk, pudgy Gorge, flying Lerk, murderous Fade or gigantic Onos that can smash through doors.

Real-time Strategy:

Commanders play from overhead to lead their team to victory. Build structures anywhere, collect resources and research upgrades. Marines buy weapons at an Armory or build sentry turrets and siege cannons to assault the enemy. Aliens build upgrade chambers, evolve special abilities and plant traps.

Dynamic Environments:

Use a flamethrower to clear the spreading alien infestation. Aliens destroy power nodes knock out the lights and power down marine structures. Random start locations mean you must scout your enemy and before committing to a build. Every game is different.

Unlimited Variations:

WYSIWYG graphical tools and powerful scripting allow you to create new weapons, scenarios or entirely new games. You'll get all our tools (level editor, cinematic tool and more) as well as the full Lua source code to Natural Selection 2. Version 1.0 is just the beginning – ongoing automatic updates keep the game fresh by adding new maps, weapons and abilities. Steam Workshop support and auto-downloading makes playing and distributing mods automatic - and gameplay always fresh.
PC System Requirements
Minimum:


OS:Windows 7 32/64-bit / Vista 32/64 / XP

Processor:Core 2 Duo 2.6 ghz

Memory:2 GB RAM

Graphics:DirectX 9 compatible video card with 1GB VRAM and support for Shader Model 3 (e.g. ATI X800, NVidia 8600 or better)

DirectX®:9.0

Hard Drive:5 GB HD space
Recommended:


OS:Windows 7 32/64-bit / Vista 32/64 / XP

Processor:Core 2 Duo 3.0 ghz

Memory:4 GB RAM

Graphics:DirectX 9 compatible video card with 1GB, AMD 5770, NVidia GTX 450 or better

DirectX®:9.0

Hard Drive:5 GB HD space

Other Requirements:Broadband Internet connection
Helpful customer reviews
Awards