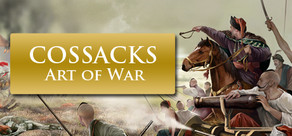 Cossacks: The Art of War continúa la historia de las grandes batallas de los siglos XVII–XVIII
Fecha de lanzamiento: 31 Mar 2002
Comprar Cossacks: Art of War
Paquetes que incluyen este juego
Comprar Cossacks and American Conquest Pack
Incluye 8 artículos: Cossacks: Back to War, Cossacks: Campaign Expansion, Cossacks: Art of War, Cossacks: European Wars, Cossacks II: Battle for Europe, Cossacks II: Napoleonic Wars, American Conquest, American Conquest: Fight Back
Acerca del juego
Cossacks: The Art of War continúa la historia de las grandes batallas de los siglos XVII–XVIII e introduce cinco campañas nuevas, dos naciones, algunas unidades nuevas y mucho más.
Requisitos del sistema
SO: Windows 7 / Vista / XP
Procesador: 1.6 GHz
Memoria: 1 GB de RAM
Disco Duro: 100 MB de espacio libre
Gráficos: Gráfica con 128 MB de VRAM, compatible con DirectX 9.0c y con Pixel Shader 2.0
Versión de DirectX®: 9.0c
Sonido: Dispositivo compatible con DirectX 9.0c
Adicional: Microsoft XNA Framework 3.1
Transavision Ltd. 2011 © Developed by GSC Game World. All rights reserved.
Análisis útiles de usuarios