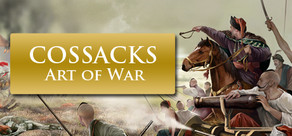 Cossacks: The Art of War continue l'histoire des grandes batailles des XVIIe et XVIIIe siècles.
Date de parution: 31 mar 2002
This item does not have support for your local language. Please review the supported language list before purchasing
Acheter Cossacks: Art of War
Packages qui comprennent ce jeu
Acheter Cossacks and American Conquest Pack
Inclut les 8 articles suivants : Cossacks: Back to War, Cossacks: Campaign Expansion, Cossacks: Art of War, Cossacks: European Wars, Cossacks II: Battle for Europe, Cossacks II: Napoleonic Wars, American Conquest, American Conquest: Fight Back
À propos du jeu
Cossacks: The Art of War – continue l'Histoire des grandes batailles des XVIIème et XVIIIème siècles, introduisant cinq nouvelles campagnes, deux nations, quelques nouvelles unités et bien plus encore.
Configuration requise
Système d'exploitation : Windows 7 / Vista / XP
Processeur : 1,6 GHz
Mémoire vive : 1 Go de RAM
Disque dur : 100 Mo d'espace disque disponible
Carte graphique : Carte comportant 128 Mo de mémoire vidéo compatible DirectX 9.0c ou supérieur avec pixelshader 2.0
DirectX® : 9.0c
Son : Carte son compatible DirectX 9.0c
Additionnel : Microsoft XNA Framework 3.1
Transavision Ltd. 2011 © Developed by GSC Game World. All rights reserved.
Évaluations intéressantes des utilisateurs