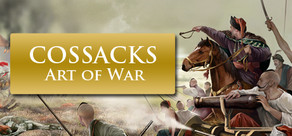 Cossacks: The Art of War continues the history of the great battles of XVII–XVIII centuries
Releasedatum: 31 mrt 2002
Cossacks: Art of War kopen
Pakketten die deze game bevatten
Cossacks and American Conquest Pack kopen
Bevat 8 items: Cossacks: Back to War, Cossacks: Campaign Expansion, Cossacks: Art of War, Cossacks: European Wars, Cossacks II: Battle for Europe, Cossacks II: Napoleonic Wars, American Conquest, American Conquest: Fight Back
Info over het spel
Cossacks: The Art of War – continues the history of the great battles of XVII–XVIII centuries, and introduces five new campaigns, two nations, some new units and much more.
Systeemeisen
Besturingssysteem: Windows XP/Vista/7
Processor: 1,6 GHz
Geheugen: 1 GB
Schijfruimte: 100 MB vrije ruimte
Videokaart: 128 MB DirectX 9.0c-compatibele (of beter) videokaart met Pixel Shader 2.0
DirectX®: 9.0c
Geluidskaart: DirectX 9.0c-compatibele geluidskaart
Extra: Microsoft XNA Framework 3.1
Transavision Ltd. 2011 © Developed by GSC Game World. All rights reserved.
Nuttige klantrecensies