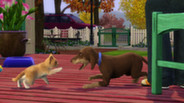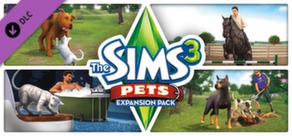 Om dit spel te kunnen spelen moet je het originele spel The Sims™ 3 hebben.

Releasedatum: 18 okt 2011
HD-video bekijken
Downloadbare inhoud
Om dit spel te kunnen spelen moet je het originele spel The Sims™ 3 hebben.
Pakketten die deze game bevatten
The Sims 3 Plus Pets kopen
Bevat 2 items: The Sims™ 3, The Sims™ 3 Pets
Info over het spel
Create perfect—or imperfect—pets for your Sims, from fierce guard dogs to destructive kittens to trusty horses and more as you determine not only how your Sims' pets look but their personality traits as well. With a variety of new activities and social interactions, take control of these pets and experience the world from their perspective. Give your Sims a new member of their household and discover all-new ways to play with life!
Key features:


More pets mean more fun! Create a wide variety of unique dogs, cats, and—for the first time ever—horses! Think your Sim has what it takes to tame a wild horse?

Be the Pet. Wield control of your Sim's pet to chase, dig, tackle and more. Be the perfect companion or wreck havoc on your Sims!

Pets have their own traits! From intelligent, brave, and friendly to hydrophobic, skittish, and clueless to gentle, fast, and agile, determine the personality of your Sims' pets.

Pets can learn skills. Cats and dogs can learn to hunt, dogs can learn to locate collectibles and fetch your Sims a date, and horses can learn racing and jumping.

Sims can take their pets outside! Take Spike to the park, bring Whiskers to the library, or ride Star to the new Equestrian Center.

Online Disclaimer
INTERNET CONNECTION, ONLINE AUTHENTICATION, ACCEPTANCE OF END USER LICENSE AGREEMENT, AND LATEST THE SIMS 3 PATCH UPDATE REQUIRED TO PLAY THE SIMS 3 DIGITAL DOWNLOAD PRODUCT. ACCESS TO ONLINE SERVICES INCLUDING SIMPOINTS AND DOWNLOADS REQUIRES AN INTERNET CONNECTION, EA ACCOUNT AND GAME REGISTRATION WITH THE PROVIDED ONE-TIME USE SERIAL CODE. REGISTRATION IS LIMITED TO ONE EA ACCOUNT PER SERIAL CODE AND IS NON-TRANSFERABLE. EA ONLINE PRIVACY POLICY AND TERMS OF SERVICE CAN BE FOUND AT
www.ea.com
. YOU MUST BE 13+ TO REGISTER FOR AN EA ACCOUNT. MAC USERS MUST UPDATE TO THE LATEST VERSION OF THE SIMS 3 LAUNCHER TO ACCESS ONLINE SERVICES, INCLUDING SIMPOINTS AND DOWNLOADS. [Manual only: EA MAY PROVIDE CERTAIN INCREMENTAL CONTENT AND/OR UPDATES FOR NO ADDITIONAL CHARGE, IF AND WHEN AVAILABLE.] THE SIMS 3 DIGITAL DOWNLOAD PRODUCT USES SECUROM DIGITAL RIGHTS MANAGEMENT TECHNOLOGY PROVIDED BY SONY DADC AUSTRIA AG. FOR MORE INFORMATION ABOUT SECUROM, VISIT HTTP:/FAQ.SECUROM.COM/. GAME CAN BE PLAYED ON UP TO FIVE COMPUTERS AT THE SAME TIME; USERS CAN MANAGE WHICH COMPUTERS ARE AUTHORIZED OR DE-AUTHORIZED TO PLAY GAME. VISIT
http://activate.ea.com/deauthorize/
FOR MORE INFORMATION ON DE-AUTHORIZATION. INCLUDES SOFTWARE THAT COLLECTS DATA ONLINE NECESSARY TO PROVIDE AND ACTIVATE IN-GAME ADVERTISING FOR ALL THE SIMS 3 PRODUCTS PREVIOUSLY OR HEREAFTER INSTALLED.
EA MAY RETIRE ONLINE FEATURES AFTER 30 DAYS NOTICE POSTED ON
www.ea.com/2/service-updates
.
Systeemeisen
Besturingssysteem: XP SP2 / Vista SP1 / Windows 7
Processor: Voor Windows XP: 2,0 GHz Intel Pentium 4-processor of vergelijkbaar / Voor Windows Vista en Windows 7: 2,4 GHz Intel Pentium 4-processor of vergelijkbaar. Voor NVIDIA ION™-computers vereist het spel tenminste 2,0 GB RAM.
Geheugen: Voor Windows XP: 1 GB RAM / Voor Windows Vista en Windows 7: 1,5 GB RAM. Voor NVIDIA ION™-computers vereist het spel tenminste 2,0 GB RAM.
Harde schijf: Tenminste 3,5 GB hardeschijfruimte met tenminste 1 GB aanvullende ruimte voor eigen inhoud en opgeslagen spellen. 9,6 GB hardeschijfruimte is vereist voor installatie met The Sims 3.
Videokaart: Videokaart met 128 MB VRAM en Pixel Shader 2.0-ondersteuning
Ondersteunde videokaarten: NVIDIA GeForce 6-serie of beter, en alle NVIDIA G-, GT-, GTS- en GTX-videokaarten. ATI Radeon™ 9500-serie of beter, en alle ATI X-, X1xxx-, en HD-videokaarten; Intel® Graphics Media Accelerator (GMA): GMA 3-serie, GMA 4-serie
ACCEPTANCE OF END USER LICENSE AGREEMENT AND LATEST THE SIMS 3 PATCH UPDATE REQUIRED TO PLAY. ACCESS TO ONLINE SERVICES INCLUDING SIMPOINTS AND DOWNLOADS REQUIRES AN INTERNET CONNECTION, EA ACCOUNT AND GAME REGISTRATION WITH THE ENCLOSED ONE-TIME USE SERIAL CODE. REGISTRATION IS LIMITED TO ONE EA ACCOUNT PER SERIAL CODE AND IS NON-TRANSFERABLE. EA ONLINE PRIVACY POLICY AND TERMS OF SERVICE CAN BE FOUND AT WWW.EA.COM. YOU MUST BE 13+ TO REGISTER FOR AN EA ACCOUNT. MAC USERS MUST UPDATE TO THE LATEST VERSION OF THE SIMS 3 LAUNCHER TO ACCESS ONLINE SERVICES, INCLUDING SIMPOINTS AND DOWNLOADS. INCLUDES SOFTWARE THAT COLLECTS DATA ONLINE NECESSARY TO PROVIDE AND ACTIVATE IN-GAME ADVERTISING FOR ALL THE SIMS 3 PRODUCTS PREVIOUSLY OR HEREAFTER INSTALLED. EA MAY RETIRE ONLINE SERVICES AFTER 30 DAYS NOTICE POSTED ON WWW.EA.COM/2/SERVICE-UPDATES. INTERNET CONNECTION AND FACEBOOK ACCOUNT REQUIRED TO ACCESS FACEBOOK MEMORY FEATURE. FEATURE CAN BE DISCONTINUED AT ANYTIME WITH OR WITHOUT NOTICE
Er zijn nog geen openbare recensies voor dit product
Je kunt je eigen recensie voor dit product schrijven om je ervaring met de community te delen. Gebruik het gebied boven de aankoopknoppen op deze pagina om je recensie te schrijven.